'Act of Valor' Conquers Box Office!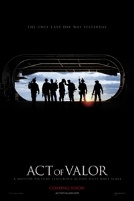 Relativity Media's "Act of Valor" stars a group of active-duty U.S. Navy SEALs in this action packed story of a mission to rescue a kidnapped CIA operative. The film is unique in that the aviators who were involved in this film as well as the personnel in submarines are all real military members and that live rounds are used in the combat sequences. The film had strong appeal in the heartland of America and also resonated well with male audiences as well as action fans and topped the chart this weekend with a better-than-expected $24.7 million. With a production budget of just $12 million, the film is a total winner for the studio and Bandito Brothers, the production company that brought the film to the big screen.
"Tyler Perry's Good Deeds" from Lionsgate adds yet another hit to Perry's box office track record with a $16 million debut. Perry directs and stars as Wesley Deeds, a businessman whose life is changed when he meets a single mother (played by Thandie Newton) who works on the cleaning crew in his office building. Perry's films perform consistently well at the box office and this film adds to that reputation.
Warner Bros. "Journey 2: The Mysterious Island" starring action star Dwayne "The Rock" Johnson continues to be a family film favorite that continues to show amazing staying power in its third weekend. The film is outperforming its predecessor at this point and this weekend drew $13.5 million against a small 32% drop and will have $76.7 million in domestic revenue by Sunday night.
Universal's "Safe House" shot its way back to the top of the box office chart over President's weekend after debuting a week earlier in second place. The film has continued to dominate the mid-week box office derby as great word-of-mouth has boosted revenues for the Denzel Washington action drama. In its third weekend, the film earned $11.4 million a total domestic gross through Sunday near the $100 million mark.
Rounding out the top five is Sony's romantic drama "The Vow" starring Channing Tatum and Rachel MacAdams. The film has continued to charm audiences and crossed the $100 million mark this weekend. $11.4 million in its third weekend of release shows that the date crowd and female audiences continue to make it their first choice.
Universal's R-rated comedy "Wanderlust" starring Paul Rudd and Jennifer Aniston and Summit Entertainment's thriller "Gone" starring Amanda Seyfried both debuted outside of the top five with $6.6 million and $5 million respectively.
Oscar weekend is another strong one at the box office with revenues up 24% from the same weekend a year ago and year-to-date revenues 18% ahead of last year.
Oscar Weekend Box Office
Top Movies for Weekend of February 24, 2012
Movie Weekend Gross Total to Date
1 Act of Valor (R) $24.7M $24.7M
2 Tyler Perry's Good Deeds (PG13) $16.0M $16.0M
3 Journey 2: The Mysterious Island (PG) $13.5M $76.7M
4 Safe House (R) $11.4M $98.1M
5 The Vow (PG13) $10.0M $103.0M