Adam Sandler's Company to Produce 'Summer School' Remake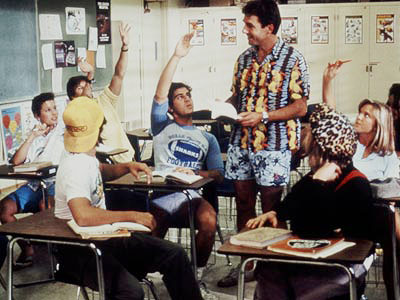 Razzies (and the moviegoing public) be damned, Adam Sandler is going to keep making movies. Just one day after his Glen or Glenda remake/ripoff Jack and Jill swept the 2012 Razzie Awards, it was announced that Sandler's production Happy Madison is in talks to remake Carl Reiner's 1987 comedy Summer School.
According to The Hollywood Reporter, Happy Madison (which Sandler runs with Jack Giaraputo) is in negotiations with Paramount to update the comedy about a gym teacher named Shoop (played in the original by Mark Harmon) who has to spend his summer teaching English to a group of zany misfits (a must for any proper '80s comedy) including a young Courtney Thorne-Smith.
While THR reports that Sandler is not attached to star in the long-delayed project (it's been in the works since 2005 when producer Jordan Kerner had a different vision for the remake), which currently has no writers attached. Still no word on whether the new movie will threaten your fond, nostalgic memories of the '80s like everything else on the agenda in Hollywood, or if the new poster will also feature a dog in sunglasses. Fingers crossed on the latter!
[Photo credit: PopEighties.com]
More:
Adam Sandler's Jack and Jill Sweeps The Razzies
Newcomer Tapped To Direct Valley Girl Remake