Adele's Post-Baby Return: Performing 'Skyfall' Live at the Oscars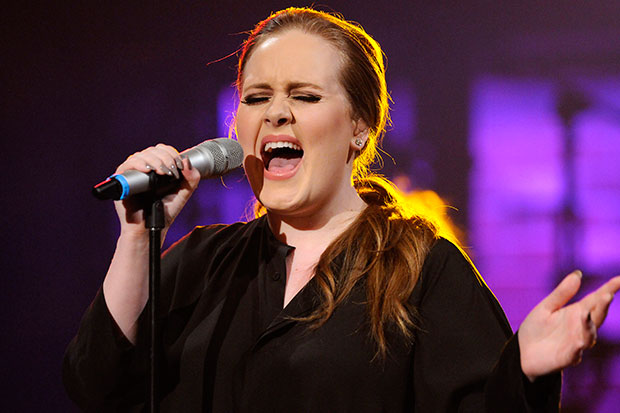 Adele fans have been clamoring to learn when their beloved singer would be making a return to the stage. Since giving birth to her son in October, Adele has basically been MIA from the music scene. And while she accepted an award for her hit song "Skyfall" at the 2013 Golden Globes, the 24-year-old musician has yet to take the stage and perform in the United States since giving birth. Well, that's all about to change. It was announced Thursday that Adele will be performing "Skyfall" live at the 2013 Academy Awards in February, marking the first time the she has ever performed the single live and her first U.S. TV performance since the 2012 Grammy Awards, The Hollywood Reporter reports.
"Skyfall," written by Adele and Paul Epworth, is nominated in the Best Original Song category this year. It is also the first James Bond theme song to make it to Billboard's Top 10 chart, and the first to be up for an Oscar since 1981 ("For Your Eyes Only").
"It's an honor to be nominated and terrifyingly wonderful to be singing in front of people who have captured my imagination over and over again," Adele said. "It's something I've never experienced and probably only ever will once!"
The forces behind the Oscars are just as excited about Adele's upcoming performance. "We have enormous respect for Adele's unique artistry as a songwriter and a singer," the award show's producers Craig Zadan and Neil Meron said. "She is currently one of the most successful recording artists in the world, and we believe that her performance of 'Skyfall' will be an exciting Oscar moment for audiences watching at the Dolby Theatre and on television screens around the world."
Follow Lindsey on Twitter @LDiMat.
[Photo Credit: Dominic Chan/WENN]
More:
Adele's '21' Sells 10 Million Copies; Rihanna 'Crying' After Album Hits Number 1
Staff Picks: The 14 Best Songs of 2012 (And 5 We'd Like to Forget)
Adele Gives Birth to Baby Boy (Slash Future Music Legend) — REPORT
You Might Also Like:

100 Hottest Women of the Century: PICS