Adele's 'Skyfall' Released in Full: That's Not a Bond Theme, THIS is a Bond Theme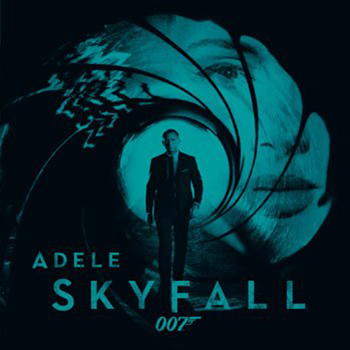 James Bond purists will tell you that Sean Connery is the Bond to Beat All Bonds. And many of those same folks will tell you Shirley Bassey's title songs are the Sean Connery(s) of Bond themes.
Now, we're never going to get another Connery 007 and we're not going to get another Bassey theme, but when Daniel Craig took the reins as the new Bond, many of us felt like the Connery elements were coming back in a modern way. Now, with Adele lending her lyrics and vocal talents to "Skyfall" (the theme of, you guessed it, Skyfall), the musical elements are making their contemporary comeback too.
The FilmStage captured audio of the song during a radio broadcast:
"Skyfall" has all the silky, sultry aspects we've come to expect (and play over and over again) from an Adele song, paired with pieces that recall the iconic, instrumental Bond theme without beating us over the head. It boasts an overwhelming, sweeping progression that riles us up so perfectly it's almost cruel that we'll have to wait until November to see the action the song was written to precede. 
And for stalwart Adele fans, the song doesn't face the danger of tarnishing her reputation as a Grammy-winning songstress and writer. While she and her "Rolling in the Deep" collaborator Paul Epworth did have to include the title of the film into the song, the lyrics still ring true of the strength and emotional capacity of an Adele song. And here's the kicker: they work for James, himself, too. It's emotional… and sexy: the perfect Bond song.