Adele, 'Skyfall', and the State of the Movie Soundtrack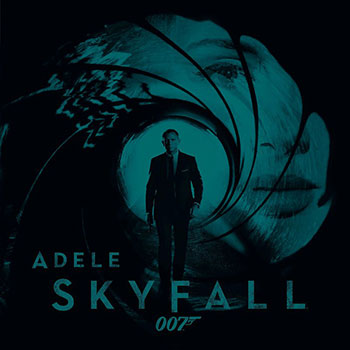 There are certain elements of the James Bond films that are just as iconic as the suave super spy himself: Bond girls, well-tailored suits, fast cars, martinis that are shaken, not stirred, and of course, the Bond theme. But along with not just the iconic jazzy opening theme with its memorable and instantly recognizable ba-dum-ba-dum-ba-daaaaa, each movie comes with its own James Bond theme song, recorded by the likes of Madonna, Paul McCartney, Sheena Easton, Duran Duran, and most recently, Adele
The powerhouse Grammy-winning singer has joined the annals of Bond history with her contribution to Skyfall, the hit single aptly titled, "Skyfall." The song, which already had high expectations thanks to the long-awaited return of Adele, has moved 661,000 units to date and it currently sits at no. 25 on the Digital Song Sales chart.
While the numbers will likely continue to rise when Bond fans experience the sleek ballad during Skyfall's exciting opening credits, moviegoers ready to listen to the song again won't find it in the place they'd most expect to: the Skyfall soundtrack. Instead, the Adele theme song — which is currently no. 56 on Billboard's Hot 100 chart — is only available as a single, while the Skyfall soundtrack is entirely composed of Thomas Newman's thrilling Bond score.
So why omit Adele on the soundtrack and only release the song as a single? Is it a mere executive decision or a true sign of the times? Has the digital age now altered the way soundtracks will be made and released? "It's very possible in the digital age, where you do have soundtracks that are really driven by one massive hit, the consumers [have the] ability to go in and say, 'I've got … the one big smash hit that I want and that's all I need," says David Bakula, SVP Client Relations of Nielsen. 
Take, for instance, the Titanic soundtrack, the fifth highest-selling soundtrack of all time. The album's massive sales (11 million to date) were all but carried entirely by the popularity of Celine Dion's "My Heart Will Go On." Imagine if the multi-platinum Titanic had been released in the digital age — would consumers have downloaded all of James Horner's sweeping score, or would they have simply clicked on Dion's sweeping love song alone?
To determine the future of the soundtrack, we first have to examine the different types of soundtracks that are on the market. Bakula explains there are essentially three kinds of soundtracks, "a soundtrack that is driven by a major single, a compilation of a bunch of great songs that work perfectly within the movie, and the background music/score [like the Skyfall soundtrack]." While Bakula says that score-based soundtracks like Skyfall remain "fairly consistent" in sales ("You still have a small niche of people that like to go in and just want to have a nice John Williams-penned score soundtrack"), what of soundtracks that stick with the format of a radio single from a A-list performer leading the way?
The last time a soundtrack that was propelled by a smash single was the 8 Mile album back in 2002, which was propelled by Eminem's Oscar-winning anthem "Lose Yourself." (The album is currently the 20th highest-selling soundtrack of all time.) Since then, a soundtrack of that particular variety hasn't quite reached the same heights as say, the Armageddon soundtrack or the City of Angels soundtrack, but that doesn't mean star power or the soundtracks to popular movies haven't been making an impact. In fact, it's quite the opposite. Case in point: the popularity of the smartly executed compilation soundtracks like those for Twilight and The Hunger Games, which appeal to the film's core fan base by using artists like Paramore and Taylor Swift, respectively, and appealing to a wider audience with the use of artists like Iron & Wine or The Decemberists.
No one knows the success of that better than Lionsgate's Head of Film Music Tracy McKnight, the music supervisor behind such soundtracks as the nostalgia-infused Adventureland and studio executive for the versatile, chart-topping soundtrack to The Hunger Games. While McKnight acknowledges "that how we digest music and how we buy music [has changed] in a strong digital market," it hasn't changed the way she approaches compiling a soundtrack. "It's art first, it's music first, it's what's right for the movie and you work to that. That's not to say that we don't think about singles and new songs and how to generate that type of experience, but once you have it then you know what to do with it," she says, adding, " You have to wrap your head around doing it differently and marketing it differently. How do you make yourself stand out? I think that's more of the challenge."
McKnight, who has worked as a music supervisor on over a hundred films, has taken on those challenges in different ways. "With something like Adventureland, all the songs had been out before and it was so much fun to revisit that music," she says. "With compilations, because you can go on iTunes and create your own playlist, it's a different sell. Where if you're doing something like The Hunger Games soundtrack with original songs… that makes it special for the fans, a musical souvenir."
The gamble of putting a mix bag of artists like Arcade Fire, The Civil Wars, Kid Cudi, Glen Hansard, Maroon 5, and Miranda Lambert on a soundtrack together paid off. The album — which featured Swift's song "Eyes Open", but wasn't necessarily carried by it — debuted at no. 1 on the Billboard 100 back in March in its first week, moving an impressive 175,000 units. (To date, the soundtrack has since been certified Gold.) McKnight explains that when it came to making The Hunger Games soundtrack, "It was very important to tell a story that cohesively had a vision … If I told you about [who was on] it before you heard you might wonder, will that work together, and yet it does. The story hangs together as a collective piece."
In fact, using soundtracks as part of the storytelling advice and making an unorthodox, but cohesive compilation continues to whet the appetite of soundtrack enthusiasts. For a music supervisor like McKnight, it comes down to something simple: "It's about putting the best soundtrack together that makes a statement." No soundtrack subgenre has seen more proof of that than modern favorites like Garden State, (500) Days of Summer, and Where the Wild Things Are, which struck a chord with their mix tape mentality and honoring its material. 
Take, for instance, the cult darling Drive soundtrack. As Bakula puts it, "It's sold about 100,000 units so far this year. The soundtrack as a whole works as a compilation of great indie artists. It's a great movie and the performances are great, but the music really took it to a different level and that's the kind of thing that gets that cult following — that second wind, that demand for people to see it after its left the theaters."
It's that very longevity — along with the consumer's desire for a great soundtrack ("I think there's always going to be a place, and I think it's a very stable place, with music that works perfectly with the movie. Consumers tend to see that as a complete package," Bakula says) — that will continue to keep the art form afloat in the digital age. In fact, the new model works to the advantage of soundtracks. "Before people have may skipped on buying a soundtrack for liking one song," Bakula says. "Regardless of whether a single [like Adele's "Skyfall"] is on the soundtrack or not, when people see the movie in droves, there's going to be demand for it. That's the other advantage a soundtrack has. They get a second and third life. First it comes out in theaters so it gets a spike, then it comes out on DVD so it gets another spike, then it's on cable and it gets another spike. Soundtracks like Grease and Footloose and Purple Rain sell as well as they do because every time they show up on cable, somebody else goes, 'Wow, I forgot how great that soundtrack was,'"
No matter what the climate, it seems soundtracks never truly go out style, nor do they great ones age. Sort of like Bond himself. As Bakula puts it, "The Bond music has become kind of a franchise in itself."
[Photo credit: Columbia]
More:
Hollywood.com's Skyfall Review
Adele's 'Skyfall' Released in Full: That's Not a Bond Theme, THIS is a Bond Theme
Steamy Romance or Crazy Action: Which Was Harder for the Skyfall Bond Girls?
From Our Partners:

(Moviefone)