'Admission' Director Paul Weitz On Casting Tina Fey: 'I Immediately Thought of [Her]'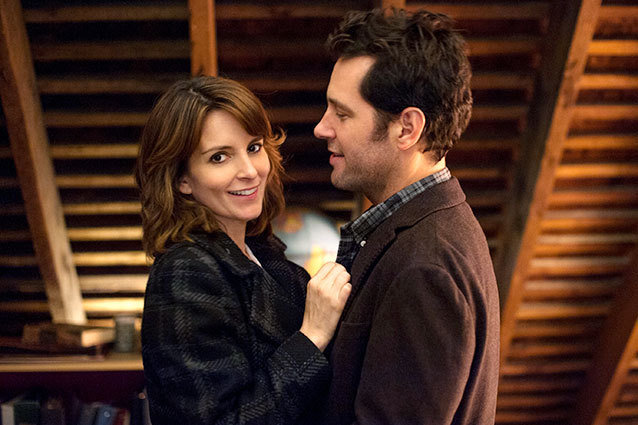 The new romantic dramedy Admission marks some pretty big firsts for television royalty Tina Fey: it's the first time the 30 Rock star worked with Paul Rudd (despite having a whole lot of very funny factors previously connecting them) and the first time the funny lady took on a more serious role. 
Admission director Paul Weitz (whom Fey also worked with for the first time) is no stranger to adapting books for the big screen and having stars step out of their comfort zone (see: About A Boy and Hugh Grant's revelation of a performance in it), but he was particularly eager to work with the Emmy-winning Fey on this project. 
In Admission, Fey plays Portia, a content, straight-laced Princeton admissions officer whose life takes a series of unexpected turns when her longtime boyfriend Mark (Michael Sheen) leaves her for another woman, her mother Susannah (Lily Tomlin) reveals she's had a double mastectomy, and Portia meets a charming single dad and high school teacher named John (Rudd) who not only becomes a romantic interest but also introduces her to Jeremiah (Nat Wolff), a bright young man who could be the son she gave up for adoption years ago. Subsequently, she hits a series of moral dilemmas with her job when Jeremiah applies to Princeton. It's not exactly an episode of 30 Rock. 
RELATED: 'Admission' Star Tina Fey on Working with Paul Rudd and What She and Amy Poehler Will Host Next
"I like it when they're taking a step," the Oscar-nominated Weitz (whose previous credits also include American Pie, In Good Company, and Little Fockers) tells Hollywood.com regarding working with actors and actresses on a role that breaks them out of their usual mold, like Fey in Admission. "I felt like the character [Portia] needed comedy and intelligence and Tina has both of those things. I really felt like it would be something she could do."
"The character feels like she is settled in her life and nothing is going to change for her: she has the job she wants for the rest of her life, she's in a relationship and doesn't want to get married, and most of all, doesn't want to be a mom. Then she gets thrown this massive curve ball in the course of this movie," Weitz continues. "So it's really important to have somebody who you think is smart enough to fool themselves into thinking that everything's done."
Weitz says he was not aware that Admission would mark Fey's first post-30 Rock performance ("I was aware that there was a certain amount of the year when one could shoot a movie with her"). He said that after reading Jean Hanff Korelitz's 2009 novel of the same name on which the film is based: "I immediately thought of Tina for it."
RELATED: 'Admission' Star Paul Rudd Would Be Down to Be Your High School Teacher 
Fey tells Hollywood.com that appearing in the more serious Admission "wasn't a craven choice of, 'Check me out now, world'… it just happened to be that this felt like a really good script and story," but it seems her co-star Rudd needed a little more convincing for his part of the saintly John. 
"When he first read the script he really wanted to work with Tina, but he felt like his character was kind of too good to be true," Weitz reveals. "This guy who does relief work, he's a single dad, traveling place to place doing good. He said, 'I don't understand this guy, he needs to be a selfish bastard as well.' So I worked pretty hard with him on the script."
In the end, both Rudd and Weitz seemed happy with the end result. Weitz says he appreciated that the film, and Rudd's characterization in particular, turned out to be "a pretty realistic portrayal of how when you have a kid you love, you yell at them a lot and they drive you insane. He's also a guy who's at a point in his life where he's gotten to make all the decisions, and his kid who is now 11 is saying, 'Wait a minute, why do we have to move?' I liked that not only was Tina's character in flux, but [Paul's character] was dealing with this big new thing."
While the director says that he doesn't "keep in mind what the fans of the book want because I figure they've had the wonderful experience of the book," he does take into account what the original text's author takes away from his "subjective reaction to it and what I take from it."
RELATED: 'Admission' Review: Tina Fey and Paul Rudd Avert Cute Overload, Deliver Charm
He explains, "I don't want the author to hate me when the film's done, so usually I touch base with them and say, 'I wanna go in this direction, this is what I'm thinking of, here's why, and I hope that you're not upset with me.' It's always nice when the writer sees it and feels happy with the product." Looks like Hanff Korelitz gave Weitz and screenwriter Karen Croner a passing grade for their interpretation. 
Watch the full interview with Admission director Paul Weitz below, including his thoughts on what constitutes as a romantic comedy in this day and age. 
Admission is currently in theaters nationwide. 
[Photo credit: Focus Features]
---
You Might Also Like:


15 Oscar-Winning Nude Scenes


Young Jack Black Is Totally Unrecognizable