'Admission' Star Paul Rudd Would Be Down to Be Your High School History Teacher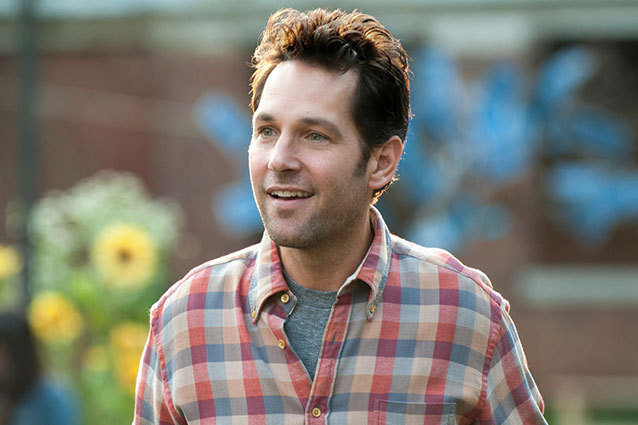 Over the past year, Paul Rudd has managed to get the whole cool high school teacher thing down pat. Between his heartwarming turn as Mr. Anderson, the English teacher who takes a wounded freshman under his wing in The Perks of Being a Wallflower, and now as John Pressman, the fly-by-the-seat-of-his-pants headmaster of a New Age alternative high school in the new comedy Admission, Rudd seems like he'd actually be a perfect fit for a classroom setting. (You've come a long way, Andy). 
RELATED: 'Admission' Trailer: Tina Fey, Paul Rudd Make Pop Culture Fans Rejoice
Here's the good news, youths of America wishing that the charming, funny star of Role Models, Anchorman, Clueless, and I Love You, Man would actually be your high school teacher: he'd be game for it. During an interview with Hollywood.com, Rudd said he'd consider being a high school teacher, but with a particular subject in mind. "I think I'd like to teach history. I think teaching history would be a cool thing. History or English…theater is just too predictable. I wouldn't teach math, I couldn't teach math. Science? I don't think I'd be qualified."
Still, even if Rudd was willing to brave the halls of a high school again, he might not quite understand the plight of students who have to go through the rigorous college application process, like the ones hoping to get into Princeton at the mercy of admissions officer Portia Nathan (played by Tina Fey, Rudd's on-screen love interest) do in the film. 
RELATED: What Super Disgusting Thing Happened At Paul Rudd's Play? 
"I never wrote a college admission essay, I never went through this," Rudd admitted. "I never applied to other colleges, I certainly didn't apply to Princeton. I could have written the best essay in the world I wouldn't have gotten into Princeton or any Ivy League school." Rudd, a University of Kansas grad and former Kansas City resident, likened his college experience and his own application process to "kind of another extension of high school."
"It wasn't too tough to get in…. All I had to do was file some paper work," the actor said, adding about his alma mater, "That's not a slight against the University of Kansas, it's a great school."
RELATED: How Paul Rudd Almost Killed Leslie Mann on 'This Is 40' 
Of course, Rudd, like so many wise guys, spent his high school days quoting comedies like "Caddyshack and Animal House." But there was one movie in particular that amused Rudd as a teen: "I used to quote Weird Science a lot. I went through a Weird Science phase."
So, we had an idea for the actor, why not put that Weird Science knowledge to use and do a Jason Reitman-style live read? (He has participated in both live readings of The Apartment  and The Princess Bride). Rudd asked, "Do you think there'd be an audience for that one?" Is he kidding? Class would most definitely be in session for that one. 
Watch the entire interview below, in which Rudd also discusses his method (or rather, non-method) to choosing his roles:
[Photo credit: Focus Features]
---
You Might Also Like:


15 Oscar-Winning Nude Scenes


Topanga's Revealing Lingerie Shoot: Hello '90s!