'After Earth': It's the End of the World But Will and Jaden Smith Feel Fine — POSTER
Will Smith and his son Jaden are going where many films of late have gone before: to the post-apocalypse.
Sony Pictures has released a new international poster for After Earth, M. Night Shyamalan's sci-fi epic (out June 6) about a father and son having to survive on the desiccated wasteland of a post-human Earth after crashing there a millennium after humanity was forced off-planet. Previous posters have emphasized the end-of-the-world, WALL-E meets The Road concept. This one, though, is solely about the father-son bonding. Their only weapons to face the wasteland, and a fearsome alien who crashed with them, are their inexhaustible reserves of confidence and ability to stare-down anything.
RELATED: 'After Earth' Trailer: What's Up With Will Smith's Accent?
I mean, what are they looking at in this poster? Is there some threat just to the right of the image? Or, on a more metaphorical level, is it their uncertain future they choose to meet with their gaze? Is this hinting at a new, meditative direction for Shyamalan, in which he'll have his characters ponder their oblivion? (Not to be confused with Oblivion, which looks like the exact same movie.) Does Will's brooding countenance mean this will be the first movie in which he doesn't shout, "Aw, hell no!" Check it out.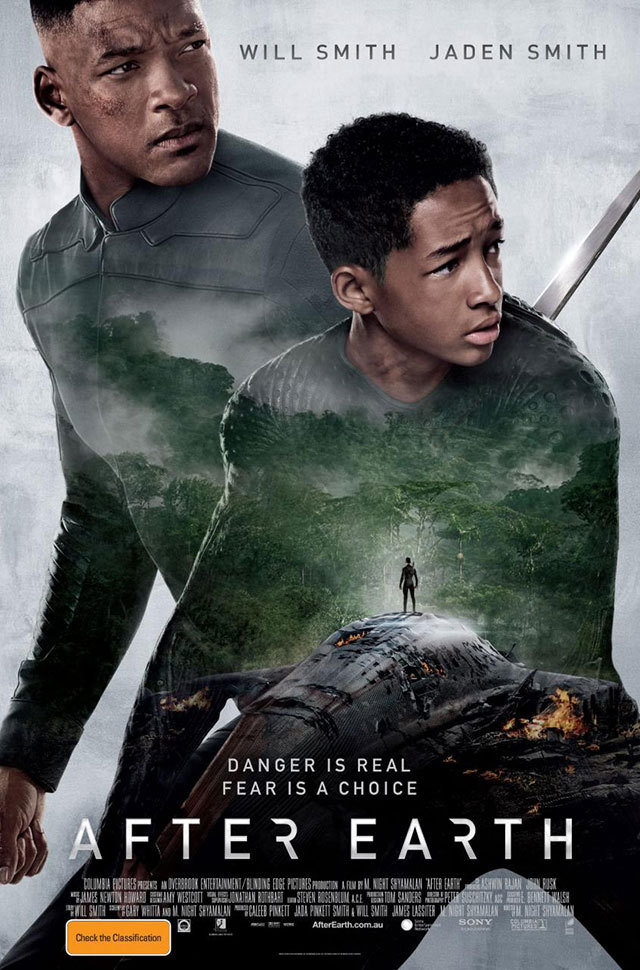 If you didn't know the title of this movie is After Earth, you'd be forgiven for thinking from this poster that Will and Jaden have decided to craft a dystopian follow-up to The Pursuit of Happyness. 
Are you planning on checking out After Earth?
Follow Christian Blauvelt on Twitter @Ctblauvelt
[Photo Credit: Sony/Columbia Pictures]
---
You Might Also Like:


Topanga's Revealing Lingerie Shoot: Hello '90s!


Stars Who Have Lost Roles For Being Too Hot (Celebuzz)