'After Earth' Reveals Jaden and Will Smith's Post-Apocalyptic World — POSTER
A new poster has just hit the internet for After Earth, M. Night Shyamalan's sci-fi, post-apocalyptic movie starring Jaden Smith and his father Will Smith. The one-sheet, below, teases what might be Shyamalan's most epic work yet.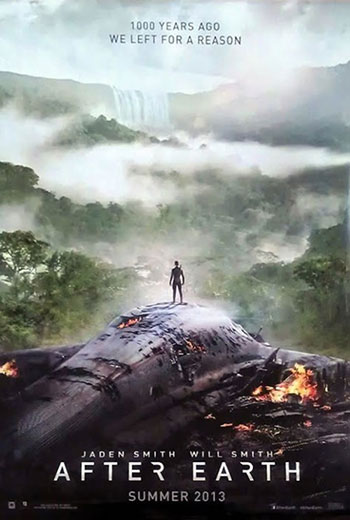 After Earth — which will probably include a major twist at the end knowing Shyamalan's work — takes place in the future, after a crash landing leaves teenager Kitai Raige (Jaden) and his father Cypher (Will) stranded on Earth 1,000 years after cataclysmic events forced humans to escape the planet. With his father critically injured, Kitai must embark on a journey to get help in uncharted, dangerous territory with evolved animal species that now rule the planet, and an alien creature that escaped during the crash.
After the trailer came out a few weeks ago, this poster certainly increases our excitement for the father/son flick. The stunning visuals of Earth in the image are only hiding nefarious, dangerous elements, and that juxtaposition of beauty vs. the unknown is compelling — why did humanity leave the planet?
After Earth hits theaters on June 7, 2013.
Follow Sydney on Twitter @SydneyBucksbaum 
[Photo credit: Columbia Pictures]
More:
Jaden Smith is Looking More Like Will in New 'After Earth' Image
Why Will Smith Said No to 'Django Unchained'
Will Smith: We Miss Mr. July