Alan Rickman Becomes Ronald Reagan — Why Are Presidents So IN Right Now?
There has always been some degree of mass appeal attached to the presidency of the United States of America. Maybe it's the big house, the access to nuclear weapons, the promise of being impersonated on Saturday Night Live. Whatever it is, people seem to dig it. But lately, this fandom has gone bananas. Think about how many different president movies were out a year ago — none. We had a king movie, but no presidents. Now, they're coming out of the woodworks: Lincoln is on the way, with Daniel Day Lewis playing Honest Abe. Hyde Park on Hudson just debuted at TIFF, featuring Bill Murray as Franklin Roosevelt. And The Avengers of the whole ordeal: The Butler, which will feature every POTUS from Eisenhower on, has recently cast Alan Rickman as Ronald Reagan, with Jane Fonda as his wife Nancy.
Oprah Winfrey, who plays a role in the Lee Daniels-directed movie, tweeted a photo of herself alongside the filmmaker and his Reagans, sparking a good deal of awe at how effectively Severus Snape and Barbarella capture the aesthetics of the former first family.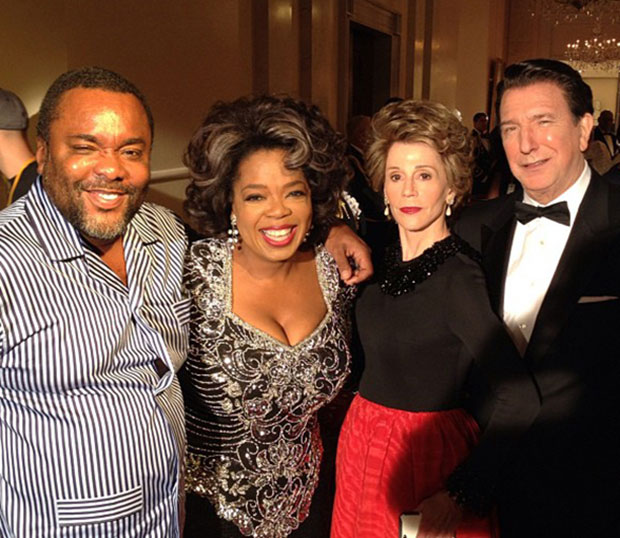 So we've got Reagan, a Roosevelt, a Lincolns (two Lincolns, if you count the Vampire Hunter one!), and the rest of the Commanders-in-Chief who'll find the spotlight in Daniels' new film. All at once! So why now? What's the deal with this presidency craze?
Well, let's take a look at all the other pertinent crazes. For one, there's the pop culture obsession with the be-all end-all springing up in response to the imminent threat of the apocalypse. Disaster films, as well as comedies and dramas on the subject, are themselves amounting in large numbers (Melancholia, Seeking a Friend for the End of the World, World War Z, and Seth Rogen's The End of the World, among others). The stakes have never been higher. But not every movie can be about the apocalypse, so how do you maintain that "most important thing ever" feeling in a down to Earth drama? Simply, make it about the most powerful man in the world. And you've got 44 to pick from, dating back to 1789.
Speaking of 1789, this brings up another big thing in pop culture today: nostalgia, and its even more distant cousin sehnsucht. We love the '80s. We're mad men for the '60s. And [insert Boardwalk Empire pun] the '20s. All these decades had presidents! Reagans, Kennedys, Coolidges. We love looking back on old times, and we love looking back at the most memorable characters of those times. And who, I ask you, is more memorable than the Coolidges of past?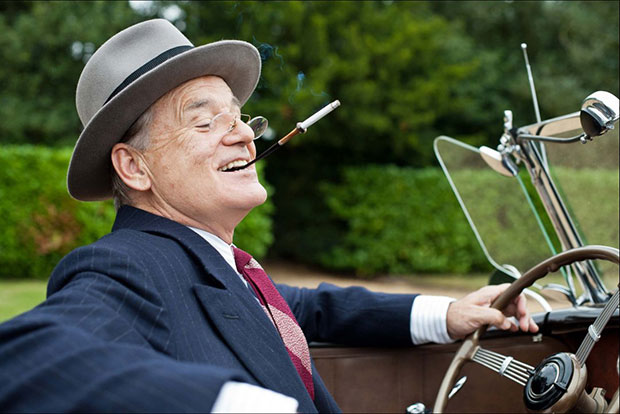 There's something about presidents that became quite evident with the release of Abraham Lincoln: Vampire Hunter. Presidents are fair game for anything. They're almost superhuman, so we have no problem stretching, distorting, parodying, or completely fictionalizing their images. There's the element of fun that comes in handling a real life figure with levity, and the element of safety that comes with tapping into a well-known (though likely not well-researched, at least by most of the viewing public… no offense, viewing public) character. You're already familiar, so it has "franchise" appeal. But you're not too familiar, at least with the presidents' personal lives, so you can do pretty much anything you want with him. Like hunt vampires.
And the final explanation is the most obvious. We live in a time when politics and the political world are more availed to the common man than they ever have been before. And right now, we're smack dab in the middle of a tumultuous, invigorating political race. Artists have forever been the voices of political ideas, and perhaps contemporary filmmakers are using historical figures to say something about our present state of being.
All this makes presidents definitively in right now. This is your time, unsung heroes. Vie for your own movies, before the flame dies out and we move onto Medieval serfs. Of course, once the big screen tires of the POTUS craze, we'll always have television. AMC's going to have to bring in something to replace Breaking Bad… how's The Coolidges sound?
[Photo Credit: Twitter, Focus Features]
More:
Obama Campaign Calls Out '2016' For 'Deliberate Distortion' of The Truth
TIFF 2012: 'Hyde Park on Hudson' Sports Great Bill Murray, Not Much Else
Spielberg's 'Lincoln' Looks Very Spielberg, and Pretty Darn Lincoln — TEASER