Alicia Keys Goes Spielberg at Sundance: 'Inevitable Defeat' Is a Tale from the Concrete Jungle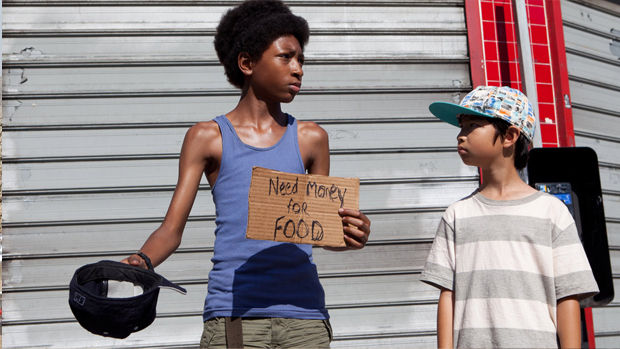 Alicia Keys' music career isn't going anywhere — we're still humming "Empire State of Mind" and the singer/songwriter is set to perform the National Anthem at this year's Super Bowl — but at this year's Sundance, the prolific artist solidifies herself as a new and essential voice in the movie business. World, make room for another Renaissance woman.
Keys' is the executive producer and composer of The Inevitable Defeat of Mister and Pete, a film rooted in the vivid landscapes and percussive nature of Brooklyn, New York. Under the eye of George Tillman Jr. (Notorious), Inevitable Defeat is the coming-of-age story of Mister (Skylan Brooks), a 13-year-old have a hard time keeping his head above the water. He's flunking 8th grade, barely avoiding being roped into local gang violence, and watching his mother, Gloria (Jennifer Hudson), lose herself to drug addiction and prostitution. On top of it all, Mister kicks off the summer with a lousy job: playing babysitter to Pete (Ethan Dizon), a young Korean kid whose mother is even more burnt out than Gloria. Mister has dreams of becoming an actor with a big audition in August acting as the light at the end of the tunnel, but even he has doubts he'll get there by the end of summer.
New York is an eclectic city, giving the filmmakers who have played there free reign to find their unique vibe. Spike Lee's classic Do the Right Thing set the bar high for Brooklyn summer aesthetics, but Tillman Jr. and Keys' choices make the neighborhood new again. Their borough is more Steven Spielberg than Lee, a childlike perspective that's overflowing with color, heightened characters, and the occasional harrowing danger. The inciting incident of Inevitable Defeat is a kid's worst nightmare: when Mister's apartment complex is raided by police, his mother is taken into custody. Committed to staying out of a boy's home, Mister hides himself and Pete until the cops leave. At 13, a boy already in over his head is stranded to fend for himself and care for another.
Like the great Spielberg films, Inevitable Defeat manages to look slick, with blooming light and pitch perfect production design while giving weight to Mister's impossible task (as the title foreshadows). Mister and Pete scramble to find food — Gloria's pantry already scarce with a can of beans and a jar of tomato sauce — crossing path's with a cast of characters all with their own motives. The complex's bully DipStick is constantly trying to rat them out; Henry (Jeffrey Wright), a homeless war vet, won't let them canvas for change donations on his turf; and after too many favors, the local bodega owner is ready to wring Mister's neck. The ensemble enlivens the world around Mister and Pete, though rarely is anyone around to help them.
Mister's world is insular. In his past, Mister never relied on his mother — by the time she's incarcerated, he's downright embarrassed by her. But without her, he is forced to go through years worth of growing up in a few weeks' time. Tillman finds comedy in that conceit, eliciting laughs from Mister's first attempt at cooking a turkey, and a fair share of drama too. The young duo manage to figure out how to find food without actually having money, but when the electricity goes out and Pete starts losing himself to illness, the pressure begins to crack Mister. Inevitable Defeat slathers on a heap of subplots (one in particular, Jordin Sparks' former building resident in a dangerous relationship with a rich businessman, is more of a time-filler than it's likely meant to be). Thanks to two breakout performances by Brooks and Dizon, who stand out against their Oscar-nominated costars, the heavy material is almost always palatable.
The Inevitable Defeat of Mister and Pete is a recognizable achievement for Keys and her collaborators because it captures the heart and soul that made her a music icon. Keys provides songs for the film that fit naturally into Mister's existential journey. Even when the singer/songwriter isn't laying on vocals behind the action, in the movie's many quiet moments, you can still hear them. Inevitable Defeat feels visualized from Keys musical work. Somtimes it's soft, tender, and heartbreaking. Sometimes it's belting notes and pounding on the keyboard. The array of songs fit seamlessly into one album. Or in this case, distinct scenes flow into a single, charming movie.
[Photo Credit: Unified Pictures]
Follow Matt Patches on Twitter @misterpatches
More:
Gael Garcia Bernal Is the Hottest Import at Sundance
Daniel Radcliffe Proves Himself a Star in Sundance's 'Kill Your Darlings'
Naomi Watts and Robin Wright Sleeping with Each Other's Sons Is as Creepy as It Sounds

100 Hottest Women of the Century: Do You Agree?