Alien Invasion to Descend on Weekend Box Office!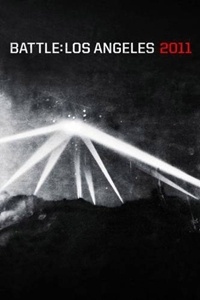 Sony's sci-fi alien adventure Battle: Los Angeles is poised for a solid weekend of box office mayhem as an expected debut in the high $20 million range will put it at the top of the chart.  Feeling more like a summer-style blockbuster than a mid-March offering, the film stars Aaron Eckhart as the leader of a Marine platoon with the unenviable task of fending off a massive offensive by super angry aliens hell-bent on colonizing Earth.  Boasting big budget effects and relentless military vs. aliens action, young males will be particularly drawn to the multi-plex looking for plenty of action and lots of on-screen destruction.  Harkening back to the sci-fi Earth invasion movies of the late 1950's, Battle: Los Angeles puts a modern spin on a tried and true genre.
Paramount had a solid $38.1 million number one debut last weekend with its animated Rango featuring the voice of Johnny Depp.  With the typical animated feature second weekend drop in the mid to high 30% range, a second weekend gross of just over $20 million is expected for the family film.  Solid mid-week grosses of around $2 million demonstrate continued interest in the film which should wind up with a domestic total in mid-$60 million territory by the end of the weekend.
In a big screen version of the classic fairy tale, Warner Bros.' Red Riding Hood casts the lovely Amanda Seyfried as the heroine of the film and the always riveting Gary Oldman in yet another villainous turn.  With obvious appeal to young females, director Catherine Hardwicke certainly knows the territory having directed the massively successful first installment of the Twilight franchise.  Featuring an attractive young cast and enough young lust, romance and adventure to excite the target audience, this Red Riding Hood is likely to generate somewhere between $15 million and $18 million this weekend.
Matt Damon and Emily Blunt in Universal's The Adjustment Bureau which opened last weekend with a solid $21.1 million and should realize a fairly modest drop this weekend that will earn it around $12 million in this weekend's box office contest.  A unique hybrid of romance and sci-fi, the film based on a Philip K. Dick short story, puts a fantastical spin on the classic boy meets girl scenario.  Hovering in second place in the mid-week contest with grosses in the $1.5 million range, look for this film to adjust itself into a likely fourth place finish and total gross pushing $40 million by Sunday night. 
However, there may be some competition from a red planet called Mars as Disney's Mars Needs Moms! prepares to stake a claim in the top 5 with a gross of around $10 million.  Opening wide on Friday and bolstered by 211 IMAX screens, the 3-D animated family film will take kids and their parents on an otherworldly animated adventure.  Featuring the voices of Seth Green and Joan Cusack and produced by Robert Zemeckis, the film will attempt to grab family audiences who until recently had few options for appropriate entertainment at the local movie theater.