'All You Need Is Kill': Tom Cruise Hangs from Helicopters, Marches with a Smile — PICS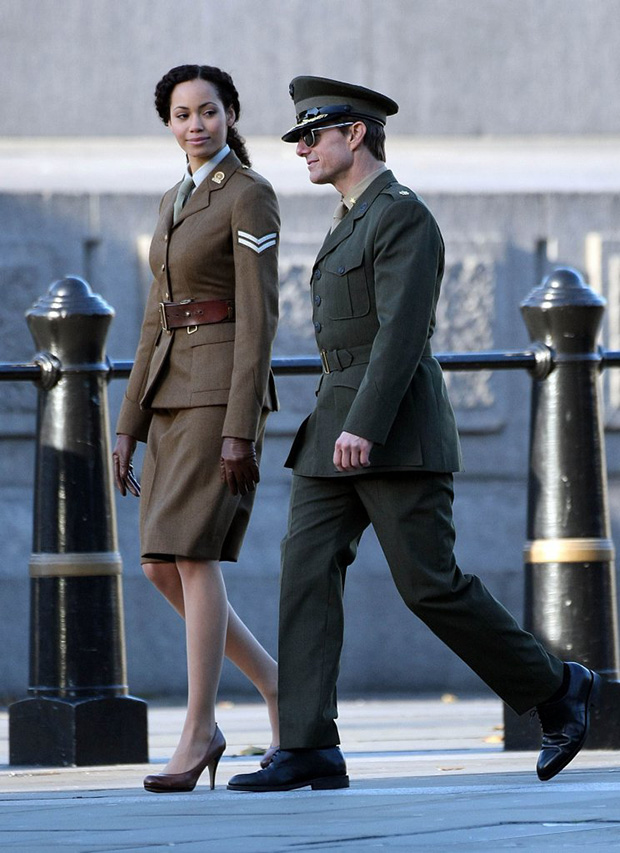 Anybody can hang effortlessly from the open door of an airborne helicopter. And anybody can pull off a military uniform with a gallant stride and a confident smile. But how many of us can really claim adequacy in both fields? From the looks of these new images from the forthcoming action/sci-fi, All You Need Is Kill, there is one Renaissance Man who puts us all to shame: Tom Cruise, the only living soul who can dangle like a champ from a hovering hurley and swagger like a superstar, not to mention overtake an entire Central London tourist attraction all the while: The Guardian reports that production of All You Need Is Kill actually shut down activity in London's Trafalgar Square, as visitors watched the shooting from a secure perimeter. All this, and the ability to outrun a wall of fire. All in a day's time.
And a day is all this man has — the very same day, over and over, Groundhog Day-style, but with an added dose of otherworldly horror and (presumably) a few less laughs. Cruise plays an Earthling soldier challenged with fighting militant extraterrestrials in an infinite loop that sees him die and reborn time and time again. Not exactly a pleasant fate, but one that doesn't seem to be weighing too heavy on the film's star: check out the pics below, wherein he channels the cool-guy-on-board-an-active-air-vehicle shtick he mastered in Top Gun and the I-might-be-in-uniform-but-that-doesn't-mean-I'm-not-here-to-party that he would have had the opportunity to explore if Warner Bros. had greenlit my A Few Good Men comedy sequel, A Few Good Men and a Baby.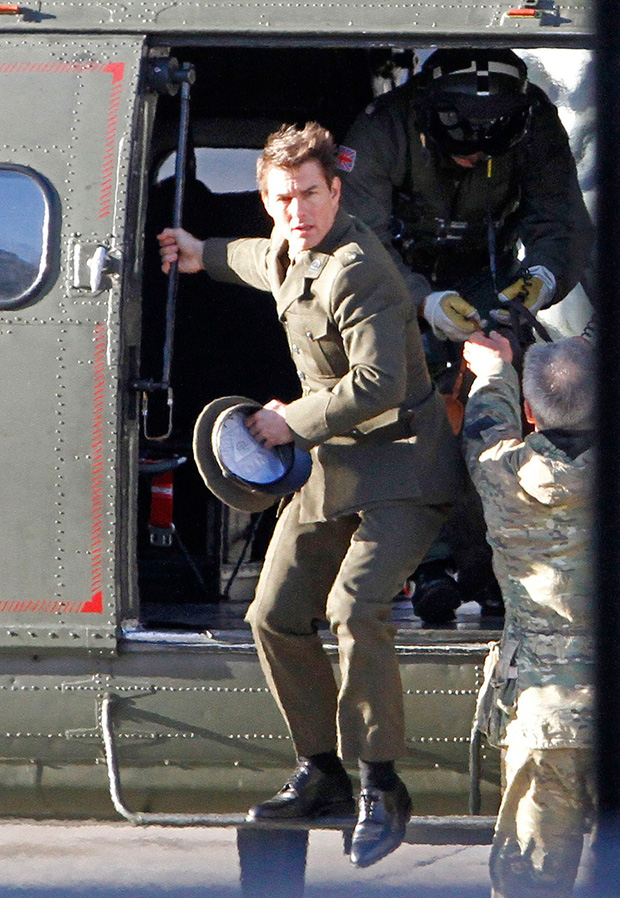 [Photo Credit: FameFlynet UK/FameFlynet; Pacific Coast News]
More:
No Explosion Can Outrun Tom Cruise in 'All You Need Is Kill' — PIC
Dwayne Johnson Is One Dirty 'Snitch' — TRAILER
'Jack Reacher' Director Eyes Round 2 with Tom Cruise in 'Mission: Impossible 5' — REPORT

Chris Brown Makes NSFW Poop-Related Insults, Deletes Twitter Account