What Is Really Behind the 'Alone Yet Not Alone' Oscar Nomination Reversal?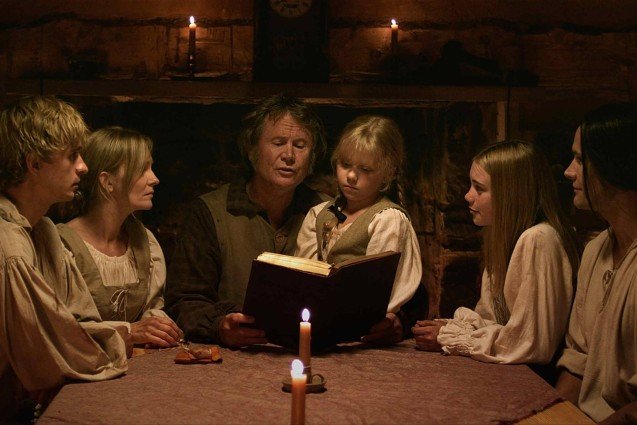 Alone Yet Not Alone/Facebook
Alone Yet Not Alone gets an Oscar nod — controversy stirs. The Oscars take the nod away — controversy grows.
The just-shy-of-unknown picture earned a Best Original Song nomination for its title number, "Alone Yet Not Alone," written by Dennis Spiegel (lyrics) and Bruce Broughton (music). Technically speaking, the nomination should furrow some brows:
For one, Alone Yet Not Alone only had a 21-day (and largely overlooked) theatrical run in 2013, a move to option it for awards eligibility — enough to color the film with a puzzling rouge, maybe, but not quite to support accusations of wrongful nomination… as proven by the fact that a yet unnamed organization hired a private investigator to confirm the legitimacy of Alone's eligibility. According to The Hollywood Reporter, the investigation — which focused specifically on the existence of print advertisements during its theatrical run, which are necessary for a film aiming for an award — deemed the film A-OK for nomination.

Far more important is the official reason for the song's disqualification: a specific degree of campaigning conducted by Broughton, who just so happens to be a former Academy governor. Reports following the removal of "Alone Yet Not Alone" from the nominees list share a message sent by Broughton to Oscar voters during nominations week, courtesy of CBS News.
Anybody who remembers Melissa Leo's Best Supporting Actress candidacy back in 2010 knows that awards campaigning is hardly taboo practice. Off-putting, maybe, but not against the rules, which is why the official ruling on Broughton's actions might perplex. According to Academy President Cheryl Boone, it wasn't so much what he did, but who he was. The mere fact that Broughton's name, as a former Academy governor, appeared at the head of the aforesaid email would have been enough to sway voters, as she articulates in her statement: "No matter how well-intentioned the communication, using one's position as a former governor and current executive committee member to personally promote one's own Oscar submission creates the appearance of an unfair advantage."
Unsurprisingly, Broughton has responded with dismay, affirming that his intentions were never to use his professional history to sway voters, but only to ensure their awareness of the film and song, a practice he asserts is within the parameters of traditional Oscar campaining.
So… who's right?
An even more pressing question might be if there were any additional factors that went into the decision to oust the Alone Yet Not Alone title song from the running. Although the above mentioned private investigation was conducted, presumably, by a third party (Cinemablend writer Sean O'Connell jokes — or hypothesizes? — that "it's got to be the people behind Inside Llewyn Davis"), it indicates the overarching suspicion associated with Alone But Not Alone's nomination from the beginning.

When you take a look at the film itself, you might understand the contentious feelings. Alone Yet Not Alone is a self-decreed "faith-based" film that has garnered criticism for manipulative religious viewpoints and racist depictions of Native Americans. Before even stirring unrest over its eligibility, the new publicity for Alone Yet Not Alone stirred allegations of prejudice. And we've got to wonder if the public response to the film being considered for an Oscar in any way influenced the Academy's decision to pull the plug.
Already the nature of the debate is shaky. Some are defending the legality of Broughton's actions (like Hitfix columnist Kristopher Tapley) and highlighting arbitrariness in the Academy's decision. And considering the holes in the organization's defense of the nomination removal as well as the private investigation and the Alone But Not Alone outcry that preceded this new development, we're left to question just what factors pushed the Academy into such a rare action, and to ask ourselves if whatever feelings we may have about Alone But Not Alone should in fact impact our outlook on its disqualification.
Again: who's right?