'Amazing Spider-Man': One on One with Garfield, Stone, Ifans, Leary and More!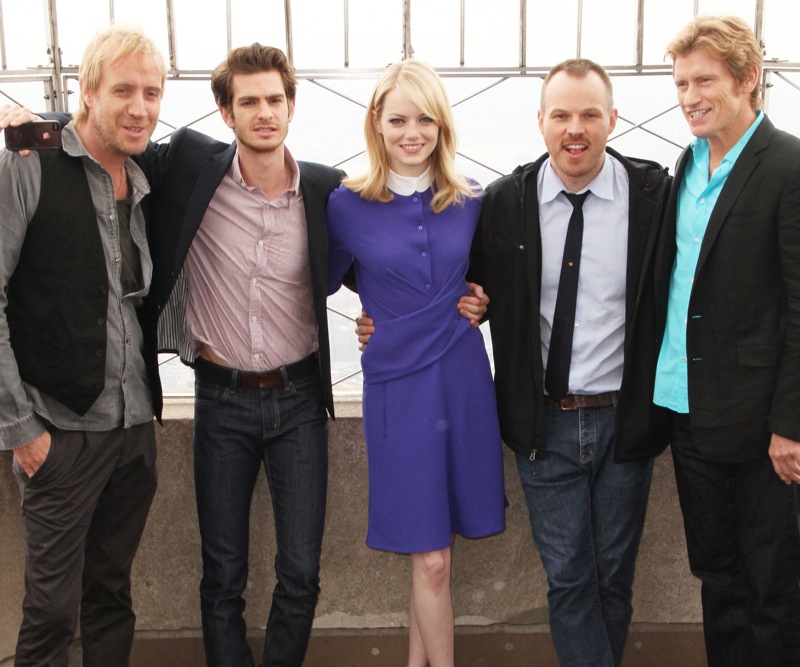 Rebooting a popular property is a tricky situation — how do you truly make it different? Director Marc Webb found his answer in an extraordinary cast, assembled from Hollywood legends and fresh faced talent that are on their way to the top. Andrew Garfield, who wowed in The Social Network; Rhys Ifans, a well-known British actor with roots in Shakespare; Martin Sheen, the man who continually churned out top-notch performances in the '70s; Emma Stone, the definition of the modern, well-rounded leading lady; and Denis Leary, who started as a stand-up comedian before taking the small screen by storm in Rescue Me. The eclectic mix breaths new life into a well-known origin story and turns The Amazing Spider-Man one of the best performed movies of the year. The ensemble may spend a majority of their time discussing superheroic arachnid-people and a nine-foot lizard monster that's terrorizing New York City, but they do it with a style that's unique and absolutely fiery.
Hollywood.com had a chance to sit down with the cast of The Amazing Spider-Man to discuss the challenges they each faced while bringing their characters to life. Inspiration can be drawn from anywhere, and as you'll see with the passionate, rowdy bunch below, there was no stone unturned bringing Spider-Man to life. For this colorful cast, it's only natural.
Rhys Ifans on Playing the Lizard, Working on his Growl
Follow Matt Patches on Twitter @misterpatches
More:
'Spider-Man' Fandom: Why a Reboot Was the Only Answer
'Amazing Spider-Man': Making Sense of That Crazy Mid-Credits Scene
The Non-Geek's Guide to Spider-Man
[Photo Credit: WENN.com]