Amber Heard Gets All Up On Danny Trejo in 'Machete Kills' — PHOTO 
Johnny Depp
, who? Don't you know it's
Danny Trejo
the ladies all go crazy for? At least, that seems to be the case in the upcoming
Machete Kills
, the follow-up to 2010's over-the-top revenge thriller
Machete
, which will feature Trejo crossing paths this time around with the stunning likes of
Sofia Vergara
,
Jessica Alba
,
Lady Gaga
,
Zoe Saldana
, 
Vanessa Hudgens
,
Alexa Vega
,
Michelle Rodriguez
and bona fide fanboy fantasy girl
Amber Heard
(
Zombieland
,
Pineapple Express
,
Drive Angry
.) Some former Mexican Federales with an ax to grind have all the luck. 
In a newly released still from the Robert Rodriguez action/exploitation caper, the 26-year-old actress — who has been making headlines more recently not for The Playboy Club, rather the rumors that she's dating her Rum Diary co-star — gets up close and personal with her other leading man here. In Machete Kills (which is slated for a 2013 release date) Heard plays beauty queen Miss San Antonio as Trejo's vigilante Machete looks to stop a madman and a billionaire this time around, one of whom is played by none other than Mel Gibson. 
So, you can decide what's crazier, the overall concept of Machete Kills or the now-burned-in-your-brain image of a dolled-up Heard straddling Trejo. Check it out: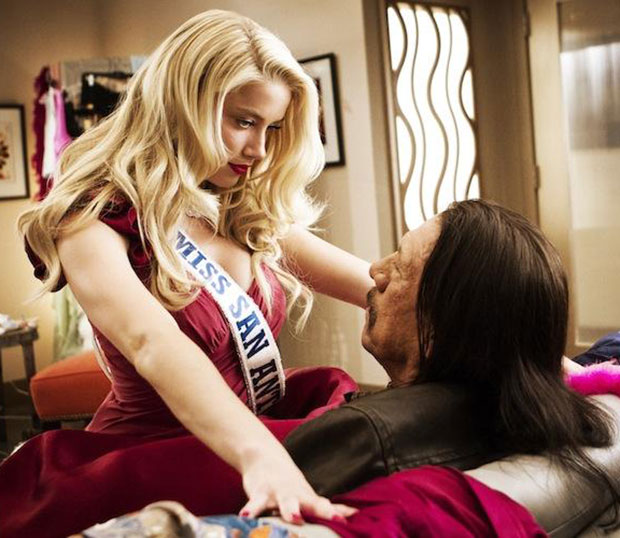 [Photo credit: Open Road Films] 
More: 
Mel Gibson Joins Machete Kills: Can Robert Rodriguez Redeem Him?
From Our Partners:

(Moviefone)

NY Comic-Con: 34 Crazy Costumes
(Moviefone)