'Amélie' Makes Us Want to Be a Better Person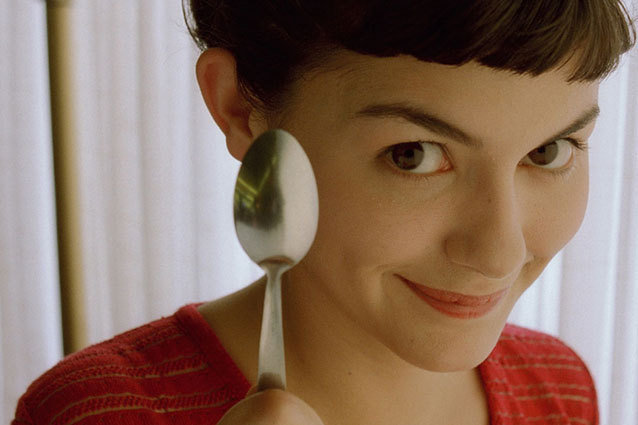 When the world is cold and bleak and you've lost all faith in humanity, there is only one cure: Amélie. Even at your lowest, the 2001 French film has the ability to cheer you up with its story of a young girl from Montmartre (played by Audrey Tautou) who discovers her passion for helping others. The way she touches people's lives while learning to live her own reminds us that the ultimate gift in life is giving to others. So here are our favorite inspiring acts of kindness that Amélie performs in the most life-affirming movie ever made.
She Gives a Cynical Man His Childhood Back
What spurs her mission to help mankind is the mysterious treasure box she finds behind a tile in her bathroom. In it are old toys and photographs collected decades ago. When she hunts down the old tenant who the box belonged to and arranges for him to find it in a phone booth, he is overcome with emotion. After this miraculous act, he reevaluates his life and decides to reconnect with his daughter and finally meet his grandson.
She Helps a Blind Man "See"
When Amélie spots a blind man about to cross the street, she takes the opportunity to help him and gives him a vivid description of everything going on around them. She describes every scene, from the interesting characters who pass by (i.e., a woman wearing a marching uniform who she calls "the drum major's widow") to the foods being sold at the market (i.e., sugar plum ice cream, melon slices, and rotisserie chickens). When she leaves him by the metro, he looks as if he had been touched by an angel.
She Shows Her Father the World
Since her mother's death, Amélie's father has become increasingly reclusive and sheltered. In order to get him to see the world, she steals his garden gnome and, with the help of an international flight attendant, photographs the statue in various famous international locations. Unable to comprehend how this is happening, her father concludes that it must be a sign, and so he goes on his first trip.
She Unbreaks a Widow's Heart
Amélie's downstairs neighbor, Madeleine Wallace, lost her husband in a plane crash, but right before he died she found out he was having an affair with his secretary. She's spent every day crying and grieving ever since. Amélie gives the widow a new perspective by fabricating a lost letter from her husband that confesses that he had ended the affair and that his heart still belonged to his wife. This life-changing discovering gives Madeleine a whole new outlook, and dries her tears.
She Defends the Defenseless
Monsieur Collignon, the neighborhood grocer, regularly belittles and humiliates his handicapped assistant, Lucien, who likes to treat the produce with extra care and attention. Amélie feels an affinity with Lucien, and comes to his defense through an elaborately devised scheme to rearrange things in Collignon's apartment, thus making him so paranoid and shaken up that his arrogance is replaced with humility.
She Learns to Take a Leap of Faith
After her many acts of kindness, Amélie's enigmatic neighbor, Raymond Dufayel, helps her realize that the one person she's neglected is herself. He's witnessed her falling in love with Nino, a young man who shares the same quirks as Amélie, and he convinces her to go after him. Painfully shy Amélie learns to overcome her fears and changes one last life: her own. She finally meets with Nino and the two begin what looks like a beautiful relationship.
More:
'Crimson Peak' Casts Tom Hiddleston
The King of Anime Retires
'Southern Wild' Director Making Another Magical Movie
---
From Our Partners:


40 Most Revealing See-Through Red Carpet Looks (Vh1)


15 Stars Share Secrets of their Sex Lives (Celebuzz)