America Ferrera's 'End of Watch' Ride-a-Longs Were '75% Terrifying, 25% Really Fun'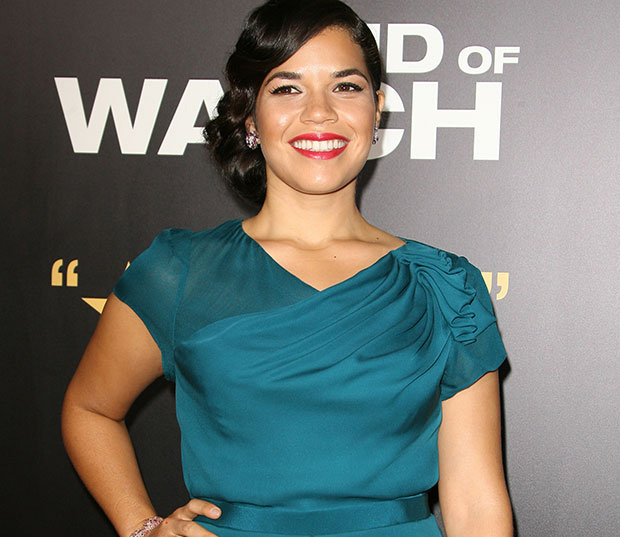 Director David Ayer's End of Watch goes deeper into the world of the LAPD than most movies dare to go. Doing so presents a challenge: the life of a cop isn't always glamorous and Hollywood-friendly. There is a lot of violence, sure, but the occupation also involves long, boring nights, aimless palling around, grieving for fallen members of the force, and existential musings on why the hell anyone would ever sign up to be a cop in the first place. It's a tricky premise, but Ayer pulls it off with a brilliant cast of everymen, including Jake Gyllenhaal, Michael Peña, and America Ferrera.
For Ferrera, End of Watch marked a departure for the actress, who started her career with the HBO drama Real Women Have Curves and cemented herself as a Hollywood player thanks to her long-running TV sitcom Ugly Betty. While sitting down with the actress at the Toronto Film Festival, Hollywood.com learned what End of Watch required from the starlet, what her own research revealed about the LAPD, and her memories of her first TIFF, when Real Women Have Curves premiered at the festival in 2002.
Was the physicality of the role what enticed you to take the part?
The whole idea of the character enticed me. A woman in this world. The way the character was written seemed to come from that world, that neighborhood they were patrolling. I liked the mirror her character [had], the juxtaposition her and her partner had against Jake and Mike's characters. Sitting down and talking to David, it was clear to me that this character was based on one or many people he knew and loved.
One of the most exciting things for me about this experience was all of the preparation we got to do. We got to go on ride-a-longs, do academy training, and build a camaraderie between us. We saw things and were physically put in positions to experience the adrenaline and the emotion and the friendships and the ups and downs in a small little snippet that was very specific to that area, the environment in the film. Cody Horn (who played my partner) and I got to go on ride-a-longs together, and we went with men and women. What's interesting is a lot of the women in the LAPD look exactly like me. I have so many pictures of them and me they're my height, they're latina. They literally look like me physically and racially and everything.
The very first day we all met, we met at a police academy in Los Angeles. We were watching new recruits go through the physical training they go through before they graduate. And one of the first things they did was go in a room, and they asked us to close our eyes while they played real live 911 calls. Domestic dispute 911 calls. And it was one of the hardest things I ever had to do. You're listening to real 911 calls of children calling because their parents are physically abusing each other. If you think this is a job about running with guns and kicking down doors… they wanted to make us realize it's not just that. You're dealing with people. You're a social worker.
But this was also definitely my most physical role. And an incredible journey as a woman — the amount of confidence you build in your ability to protect yourself was amazing. I would wish that on every woman. We were doing mixed martial arts and the more times you're confronted by this in a safe environment, the shock doesn't stop you from thinking.
Did you have a chance to talk to the women in the LAPD and really learn where they came from? Were their backstories important to building your character?
The police force was one of the jobs that was hiring after the recession and it's not a ridiculous amount of education to go in to the police force. So for a lot of the people in these neighborhoods, who grow up with financially restricted backgrounds, its a job that pays decently well and has benefits and it has honor, a sense of giving back to the community, and its attractive. There were more people coming from the background of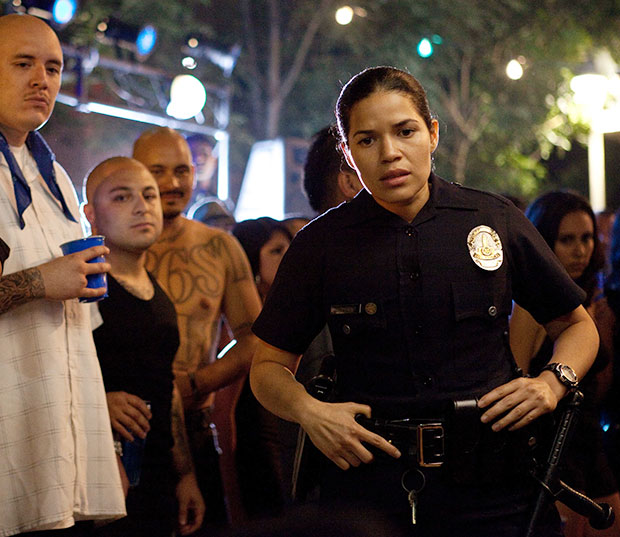 End of Watch has its shocking moments, but it's also really funny. Knowing you spent a few years on Ugly Betty, was playing up the comedy part of David's approach to the police force?
I think that came more from all of us spending time with the cops. They don't stand around talking about how heavy their jobs are [laughs]! The ride-a-longs are 75% terrifying and 25% really fun. I don't want to glamorize it or recruit anyone to be a cop — this is an actor's opinion on preparing to play a role, not to be a cop. But we'd be standing around a parking lot, drinking coffee at two in the morning, because you've been working since 6PM and you're tired, and laughing about whatever. You're not talking about the horrible thing you saw or the gravity of your job. To see the camaraderie between the officers, I think that influenced all of us as actors, that we wanted to bring that to the teamwork.
The movie was shot on location in a lot of the neighborhoods that are represented in the story. When you were there on set, was there a sense of danger? Or are we seeing a heightened version of this environment?
There were times where I was really scared. I think the truth is, that while we were shooting in that area, in LA three cops had been shot. In that area, there were several times where real cops were dealing with real situations in and around our set that had nothing to do with us. I would have to say the "most real" moment for me, was the party we all show up and break apart.
A serious stand-off with a gang.
Yeah, that whole party was… locally cast. Let's just put it that way. And it went on for many, many hours. That was for me, it was a little too close to reality.
The first time you were at TIFF was back for Real Women Have Curves.
I haven't watched the movie in a very long time, but every time I see a picture of me at that time, I think, 'who is that person?' I was so young. It was incredibly magical time for me — none of it was expected. It was my second job ever, my first film. I was so ecstatic to do the work and for the work to be received so warmly, you set the bar so high.
[Photo Credit: WENN.com, Open Road Films]
Follow Matt Patches on Twitter @misterpatches
More:
'End of Watch': Everyone Is Trying to Kill Jake Gyllenhaal — EXCLUSIVE VIDEO
'End of Watch' Trailer: Bald Jake Gyllenhaal Gets His 'Training Day'