American-Born 'Unknown' Eyed for Captain America Role

Pre-production on The First Avenger: Captain America is moving into high gear, with director Joe Johnston expected to soon reveal the name of the actor who will ingest the Super Serum and battle the Nazi scourge in the superhero's World War II-set origin story, which is slated to hit theaters in July of 2011.
At a press conference last weekend for The Wolfman, the troubled horror flick he guided to completion after landing its vacated directing job just two weeks before shooting, Johnston dismissed concerns that Marvel Comics' famously patriotic superhero might be played by — gasp — a foreigner (say, Aussie Sam Worthington, for example). Johnston stated that he was "absolutely" commited to casting a Yank in the role, adding, "I don't think we could make the film without an American playing the part."
But while the actor playing Captain America will almost certainly be an American citizen, he may not necessarily be a famous one; Johnston is unsinterested in A-listers. "I'm looking for a complete unknown," he declared, putting to rest various dubious reports that had pitched everyone from Leonardo DiCaprio to Will Smith for the role. "I hope it'll be somebody that we discover, and who has never been in [anything]. Well, he's probably been in something, but you won't know who he is. You won't recognize him. And we'll surround him with more prominent names."
Of course, "unknown" is a relative term, one that provides fuel for endless debate among members of the fanboy community. Are we talking Chris Pine-level unknown, Brandon Routh-level unknown, or Matt Salinger-level unknown? Recent reports seem to land somewhere in the middle, with Ryan McPartlin (Captain Awesome from TV's Chuck) and Cam Gigandet (Twilight, The Unborn) among the names being mentioned as leading candidates for the potentially star-making gig.
Presumably, whoever eventually receives the nod will have undergone an extensive vetting process to verify his credentials as a genuine, full-blooded American (but not too American — sorry, Adam Beach), lest the production find itself besieged by the comic-book equivalent of the "Birthers" movement.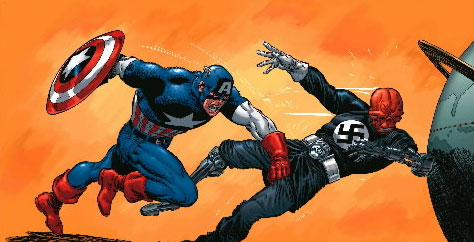 Interestingly, there apears to be considerably less pressure from German citizens for Johnston to choose a suitably Teutonic actor for the role of Red Skull, Captain American's crimson-domed Nazi nemesis. However, some of the more optimistic fans of the comic harbor the vain hope that Austrian star Christoph Waltz, recently nominated for a Best Supporting Actor Oscar for his performance as Gestapo fiend Hanz Landa in Inglourious Basterds, might eschew typecasting concerns and sign on to portray an even more cartoonish Third Reich villain.
The supporting players of The First Avenger: Captain America are slowly coming into focus as well, with CHUD recently confirming that The Invaders, a second-tier, international supergroup of B-list Marvel heroes like Silver Scorpion, Union Jack, and Bucky, will figure prominently in the film.