'American Pie' Reunion Really Happening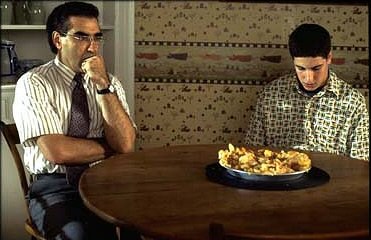 Jason Biggs, Eugene Levy, and Seann William Scott have all accepted offers to appear in American Reunion, the fifth (sixth? Who knows how many direct-to-DVD sequels they made. And if they count at all) sequel to the American Pie franchise. Scott accepted, despite the fact that he checked himself into treatment earlier this week. Guess he needed to clean himself up before playing an alcoholic slacker douche. Method acting, you guys!
Anyway, Universal is still in talks with most of the original cast because it just wouldn't be a real American Pie reunion without Thomas Ian Nicholas, Tara Reid, Mena Suvari and Jennifer Coolidge. Know who else they're talking to? CHRIS MOTHER FUCKING KLEIN! MIGHT AS WELL GIVE HIM THE OSCAR NOW BITCHES. THE KLEIN TRAIN IS PULLING BACK INTO THE STATION OF KICK-ASS! OH YEEEEEEAH!
Meanwhile, Jon Hurwitz and Hayden Schlossberg, the writer/director behind the underappreciated Harold and Kumar Escape from Guantanamo Bay, will handle the writing and directing duties for the reunion. The original American Pie writers and directors, Adam Herz and Paul and Chris Weitz, will executive produce.
Wait. We're missing someone very important here. WHERE'S ALYSON HANNIGAN, FOOLS? She's the only female cast member to find steady work post-Pie and she's not going to be in the reunion? GASP! Does that mean her and Biggs' character got a divorce? NOOOOOO!
Source: Hollywood Reporter