'American Psycho' Musical Composed by Duncan Sheik Stars in Yet Another Kickstarter Campaign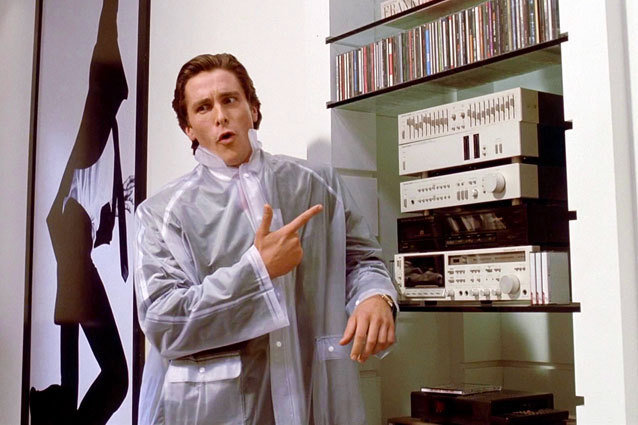 Have a big, glitzy idea for a way to repurpose an iconic or cult-fan favorite film? Look no further than Kickstarter: Hollywood's newest answer for, well, everything. If you give a mouse a cookie, pretty soon they're going to want to take over the whole house.
Today's Kickstarter du jour is for American Psycho: the Musical! Based off the novel by Bret Easton Ellis (and the film starring Christian Bale), the song-and-dance version of Patrick Bateman's life of cool '80s gadgetry, business cards, Huey Lewis tunes, and murder is set to take the stage in London this December — but they need us regular folks' help to do it.
According to the show's producer, Jesse Singer, the musical has been a pet project and "a true labor of love" for himself and the rest of the creative team, which includes Glee producer/screenwriter Roberto Aguirre-Sacasa (who wrote the book for the musical, and tried very admirably to turn around Spider-man: Turn Off the Dark on Broadway), Spring Awakening and American Idiot composer Duncan Sheik (who also had a string of radio hits in the '90s), and director Rupert Goold (who is no slouch in the British theater world, as he is currently the associate director of the Royal Shakespeare Company). And as we all know, any true labor of love begs — nay, deserves! — some funding. So why not make the people you're making it for also pay for its production? Ticket sales, schmicket sales! More is more is more.
For diehard fans, though, the campaign has some rewards to tickle your fancy. You have the opportunity to take some private yoga classes with Sheik (for $3,500), go out to dinner with some of the creators or Ellis himself, own the keyboard Sheik used to write the music, or even have your name written into the musical (for a mere $8,500!). And all for pennies, really! If you happen to have a ton of pennies lying around, that is.
Kickstarter: Making Hollywood's mediocre ideas come to life since 2013. Thanks a lot, Veronica Mars.
Check out the video for the campaign, below.
Follow Alicia Lutes on Twitter @alicialutes
More:
Scott Disick's 'American Psycho' Transformation is Complete
Bret Easton Ellis Tries to Apologize to Kathryn Bigelow, Fails Miserably
All the Insane Things Lindsay Lohan Did on Set of Bret Easton Ellis' 'The Canyons'
---
From Our Partners:


What Happened to 33 Child Stars (Celebuzz)


40 Most Revealing See-Through Red Carpet Looks (Vh1)