'American Reunion' Trailer Delivers on Nostalgia, Laughs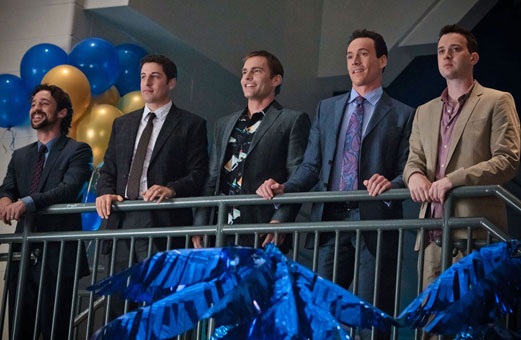 Excitation for American Reunion, the fourth installment in the American Pie series, is high.
The teaser trailer showed us the Jim Levenstein (Jason Biggs) we know and love get a little skeeved out by but still generally find affable, and the slideshow and pictures show the whole gang back together again in East Great Falls. But what we haven't seen just yet is how everyone has changed. Jim and Michelle (Alyson Hannigan) have lost some of the passion in their marriage. Kevin (Thomas Ian Nicholas) has become a bit of a harried nebbish. Finch (Eddie Kaye Thomas) has taken to riding a motorcycle. And, most surprisingly of all, Stifler (Seann William Scott) has some kind of a job that warrants wearing a suit. Plus, Oz (Chris Klein) is back, committed to a new girlfriend.
In the trailer below, we also get some quick glimpses of old Pie friends: Vicky (Tara Reid), Heather (Mira Sorvino), Nadia (Shannon Elizabeth), the Shermanator (Chris Owen), and the MILF Guy (John Cho). Plus, we might be getting some interesting developments involving Jim's Dad (Eugene Levy) and Stifler's Mom (Jennifer Coolidge).
From the moment we heard about this movie, many of us at Hollywood.com have been moved by the prospect of a reunion of these characters. The more we see, the more excited we get about the film, and about what it will give to the people who grew up with these characters.
American Reunion reaches theaters
Source: Yahoo