An All-Female 'Expendables': It's Happening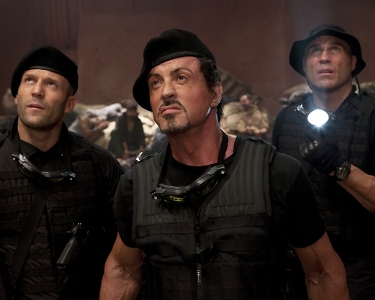 Hollywood.com's own Aly Semigran is about to get her greatest wish: An all-female version of the hit franchise The Expendables — the action star-packed testosterone-fest starring, well, just about everybody — will officially be backed by The Grey producer Adi Shankar. Variety has confirmed that Shankar's banner, 1984 Private Defense Contractors, has tapped Dutch Southern to write the script, and that the company is already in talks with several bankable actresses.
Earlier this week, Hollywood.com released a list of our own picks to star in a then-theoretical female version of the franchise, which features the likes of Sylvester Stallone, Jet Li, Dolph Lundgren, and Bruce Willis. Topping our list were Sigourney Weaver, Linda Hamilton, and Haywire's breakout star Gina Carano, as well as Jane Fonda, Pam Grier, and Angelina Jolie.
An impressive roster for sure, but hear me out — since The Expendables 2 took a chance on pretty boy Liam Hemsworth, shouldn't the female version hire his newly punk-rock fiancée, Miley Cyrus? Think about it. It totally works.
Follow Shaunna on Twitter @HWShaunna
[PHOTO CREDIT: LIONSGATE]
MORE:
Move Over, Arnold and Sly: Here's Our Dream All-Female 'Expendables' Cast
'Expendables 2': Randy Couture and Terry Crews on Tease 'Oceans 11'-Style Threequel