An R-Rated Oscars? Mark Wahlberg and CG-Enabled Ted to Present at the Show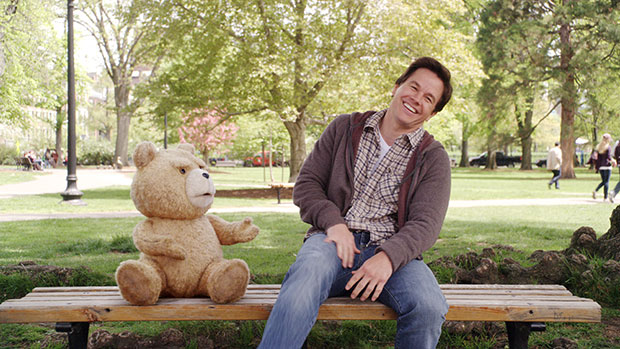 Did the producers of Ted, actually see Seth MacFarlane's directorial debut?
In a press released from telecast producers Craig Zadan and Neil Meron released Friday, it has been announced that co-stars Mark Wahlberg and MacFarlane's CGI alter ego Ted are set to present at the Oscars — making us wonder if the duo know what they're getting into. Foul language, drug use, a fondness for '80s science fiction… all screams, right?
"We are happy to make it possible for Mark and Ted to make their debut appearance on the Oscar stage," said Zadan and Meron. "And we won't deny that Ted used his pull with our host to get himself the booking." Host Seth MacFarlane was the director, co-producer, and co-writer of Ted – as well as the voice of the teddy bear – so it makes sense that Ted can make an appearance. It will be interesting to see the end result of the CGI bear on the stage next to Wahlberg. Even if the effects don't turn out well, the jokes Wahlberg and Ted will likely perform should make up for it: Ted is now the highest-grossing R-rated comedy of all time.
"I'm excited to present an Oscar with Mark Wahlberg," Ted says. "I'm spending the next month learning to pronounce 'Quvenzhané.'"
Previously announced Oscar performers include Adele, Norah Jones and Barbra Streisand. The Oscars air Sunday, February 24 at 7 PM ET/4 PM PT on ABC.
[Photo Credit: Universal Pictures]
Follow Sydney on Twitter @SydneyBucksbaum
More:
Charlize Theron in Seth MacFarlane's Western: Is the Genre Really Making a Comeback?
'Warm Bodies' Is Funny?! 10 Misleading Movie Trailers — VIDEO
Jim Carrey Banking on New Heist Film 'Loomis Fargo'
---
You Might Also Like:

Biden? Ford? Surprisingly Hot Young Pics of Politicians

Who Wore This Crazy Hat?

Stars Who Changed Their Look After Love