Anchor Bay Acquires Kim Cattrall's 'Meet Monica Velour'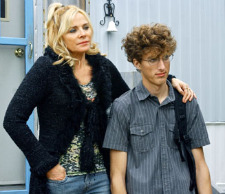 Quirky comedies like Juno and Little Miss Sunshine have proven to be big hits with American audiences. They pull very few punches and deliver hearty, truthful humor thanks to their base in realistic scenarios. I'll take Sideways or Sunshine Cleaning over The Hangover any day of the week, so I'm very happy to hear that Anchor Bay Films has acquired the indie comedy Meet Monica Velour.
The film stars Kim Cattrall as an aging porn star living in a trailer park and fighting a losing battle against her asshole ex-husband for custody of their young daughter. Dustin Ingram's Tobe, a collector of rare artifacts of American pop-culture including, but not limited to vintage pornography, enters her life after a chance encounter at a dive bar and an unlikely friendship is born.
I saw the film at it's world premiere at the Tribeca Film Festival and can say that, like the fore mentioned sleeper hits, it's got a heart of gold and enough laughs to entertain the masses. My only hope is that distributor Anchor Bay will be able to give Monica Velour a theatrical release because Cattrall gives a great performance the likes of which we have never seen from the Sex and the City starlet and Ingram cements himself as the new Jon Heder. Read my review for the film here and keep your eyes open for the lighthearted comedy – you won't regret it.
Source: The Wrap