'Anchorman 2': A History of Sequel Rumors and Why It Will Work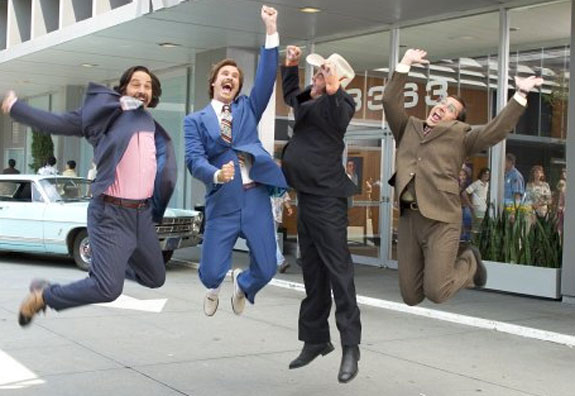 For fans of Anchorman, Will Ferrell's 2005 news room comedy, yesterday was like…a little afternoon delight. Although the movie only grossed $90 million worldwide during its initial run in theaters, Anchorman quickly climbed the cult status ladder, thanks to Ron Burgundy and crew's barrage of quote-friendly one-liners. Of course, demand for a sequel became as heated as the passion for the original, and finally, after seven years, Ferrell took the stage of Conan O'Brien's talk show last night (in character) to announce to rapid fans that Anchorman 2 was on the way.
But those who've kept their ear to the ground, picking up on every tidbit remotely resembling an Anchorman sequel update, know the announcement follows in the footsteps of a will they/won't they? back-and-forth that's turned devotees into the equivalent of battered dogs. Last night's jazz flute-accompanied declaration is solid proof that Anchorman 2 is happening, but history proves that the movie, which will see co-stars Paul Rudd and Steve Carrell returning, isn't a reality until audiences are actually watching it on the big screen. Here's a selection of the ups and down of the Anchorman sequel talk that have kept the project alive all these years:
Wishful thinking about an Anchorman sequel became actual news in 2008, when it was first discovered that Ferrell and director Adam McKay (Step Brothers, The Other Guys) were developing a script to take place in the '80s. "The audience will now allow us to do even crazier stuff and that's really all we're looking for in our careers." [EW]Later in 2008, Paul Rudd slipped a bizarre detail on the Anchorman 2 script that still felt perfectly in tune with the first movie. "I know when we were shooting it [director] Adam [McKay] said if they ever did something it would have to be really weird like we were on the moon or something." [MTV]In 2009, Ferrell, McKay, Rudd and Carrell were all on the rise, the latter two finally breaking out as stars – rarely looking back. But the idea of a sequel was always alive. That May, Ferrell told an Australian radio show that he was meeting with Rudd and Carrell to pitch ideas. Whatever that really means. [Moviefone]In 2010, the idea of the follow-up started ramping up. McKay and Ferrell had approached Paramount Pictures, the original studio behind Anchorman, with their pitch. It was actually happening! Production was tentatively scheduled for February 2011. [MTV]And as quickly as word slipped that the movie was moving forward, Anchorman 2 was killed. Word from Ferrell suggested that Paramount shelved the project after the price tag escalated. "We got everyone together and then they were basically like, 'Great! We can't believe it! But you have to do it for this amount'. And we were like, 'Oh, well there's no way we can do it for that'. Right now the ball is in their court." [Digital Spy]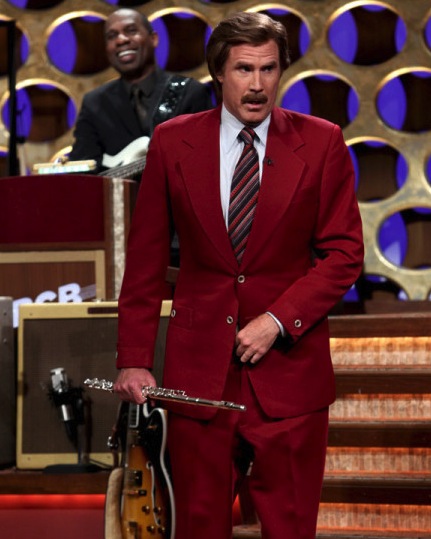 In April 2011, Ferrell elaborated on the Anchorman 2 debacle. The numbers didn't add up for Paramount, and the studio, after years of begging them for a follow-up, canned the gang's wild idea. "We were going to do almost a reverse… almost like how the Marx brothers used to do – we were going to do a Broadway musical and then have a film come out after the stage show," Ferrell said, confirming earlier rumors. "Everyone we tell the idea loves it, except for the studio that owns the rights. Ball's in their courts, but they're being idiots." [EW]The ambiguous conclusion to the Anchorman 2 saga kept hardcore fans persistent — and questions regarding the movie's fate kept popping up. As recently as this month, Ferrell put all the rumors to rest: "It's not happening, despite the rumors. I want to do it, everyone wants to see it except for the people that can make it happen. It's 100% dead." Start digging the grave. [ShowBizSpy]
And then yesterday. Maybe Ferrell was pulling our chain, but Anchorman 2 is officially in the works (even Paramount got behind yesterday's surprise announcement). Reactions to the news was mixed, ranging from beyond elated to skeptical. Could the KVWN-TV Channel 4 Evening News really capture lightning in a bottle twice? Would a sequel potentially ruin the first movie?
The history is ample evidence that Ferrell, McKay, Rudd and Carrell's sequel plans aren't just a cash-in. For seven years, the quartet persisted to realize an Anchorman follow up that was just as off-the-wall as '70s-set Legend of Ron Burgundy. They may all be big stars, but if they're as invested in recreating the magic of the original as fans are willing to relive it, then everyone wins. Now, the movie just has to happen.
What say you? Find Matt Patches directly on Twitter @misterpatches and remember to follow @Hollywood_com!
More:
Will Ferrell Talks Nude Scenes and Stunt-Butts in Casa de mi Padre
The Five Best Comedies You've Never Heard Of