'Anchorman 2' Gets Release Date: 12 Ways to Prepare for Ron Burgundy's Second Coming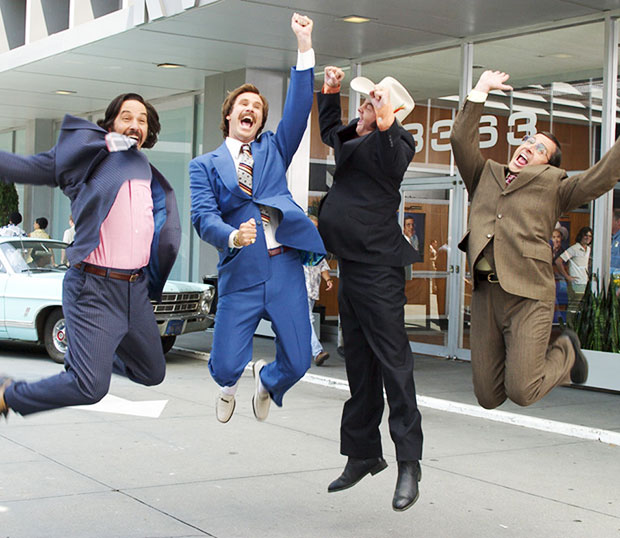 All right, everyone, here's the deal. Yes, we've all been going on and on about 2012 as the year of Armageddon, with this very date of Dec. 20 as humanity's final day on Earth. But I think we can all agree that we made a mistake. It's not 2012, it's 2013. December 20, 2013 is the last day we'll all have together. Trust me, this works out a lot better, considering the fact that Judd Apatow announced on Wednesday night that Dec. 20, '13, one year from today, will mark the release of the long-awaited Anchorman sequel. So, can we all agree to postpone the apocalypse a year in order to get in some opening day showings of the anticipated comedy? Yes? Good. 2013 it is.
Apatow announced the news via Twitter on Tuesday evening with the following message: "One year from tomorrow Anchorman 2 will be in theaters!! It is kind of a big deal."
One year from tomorrow Anchorman 2 will be in theaters!!It is kind of a big deal.
— Judd Apatow (@JuddApatow) December 20, 2012And so, we rejoice the solidity of the movie, which has come to us to date in the form of minimalistic teasers and snazzily adorned posters. With the dauntingly epic time frame of a year to prepare, we feel compelled to really get our wayward lives in order for the return of Ron Burgundy. But how, exactly, might we organize our lives accordingly for the arrival of Will Ferrell's sequel, especially in light of those pesky jobs and families with which we're plagued? Simply, by setting aside one day a month to pay reverent tribute to the great San Diego newsman, starting immediately (no time to waste!) and leading right up to the coveted release date. Here's the plan:
December 20, 2012: Start off the journey with a tall glass of scotch. Or, if you prefer, a Manhattan (with the vermouth kicked to the side by a pair of steel-toed boots, whatever the hell that means). But never milk. It's a bad choice. 
January 20, 2013: Next, dine on a hearty burrito feast, and toss all leftovers out the driver's side window of your speeding automobile. Now that you're all prepared inside, you'll have to look the part, which brings us to….
February 20, 2013: Suit shopping! Gather your three best pals and hit the town to pick up an outfit so fine, it'd make Sinatra look like a hobo.
March 20, 2013: Of course, now that you have new pants, there's no point in letting them go to waste. Extend invitations to everyone you meet to your first annual Pants Party.
April 20, 2013: Time to accessorize. It's important to smell as good as you look, so order up a new batch of Sex Panther. It works sixty percent of the time. Every time. 
May 20, 2013: After that, begin taking jazz flute lessons, to appropriately serenade fellow fans waiting in line prior to the opening show.
June 20, 2013: Of course, not all your training can be fun and games. You're going to have to engage in a perilous brawl with the various local news anchors of your municipality.
July 20, 2013: And what the hell, jump into a pit filled with hungry Kodiak bears.
August 20, 2013: It's important that you have a flair for the romantic. As such, plan a pleasant evening with one Dorothy Mantooth. Just make sure you bridle your desire to call her afterwards…
September 20, 2013: … because you know very well that you only have one true love: the lamp. Profess said love with pride. Do not be ashamed.
October 20, 2013: And in the embrace of these passions, plan an elegant foray to the far-off locale of Pleasuretown.
November 20, 2013: Watch a squirrel water ski. It's hilarious.
December 20, 2013: See the movie!
[Photo Credit: DreamWorks]
More:
'Anchorman 2' Casts Kristen Wiig to Rival Lamp for Brick's Love
'Anchorman 2' Will Be Like 'The Newsroom'… But with Musical Numbers!
'Anchorman 2': A History of Sequel Rumors and Why It Will Work

'A Few Good Men': Where Are They Now? (Moviefone)

Best Mother and Son Movies: 'Forrest Gump' and More! (Moviefone)