'Anchorman 2' — On Broadway?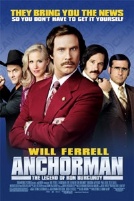 Hopefully Ron Burgundy doesn't use cue cards while performing on stage. If so, New York City may be in for some unscripted f-bombs.
Will Ferrell told Radio 1 that he and co-stars Paul Rudd and Steve Carell are all "ready to go" on a follow-up to Anchorman: The Legend of Ron Burgundy. Except, it's not a movie — it's a Broadway musical.
That's right. The boys who defined love with an a cappella rendition of "Afternoon Delight" will bring their comedy to the stage, and then will follow it with a film.
"We had this great idea where we would start it, we'd open it – we'd start with a Broadway show, I'm not kidding," Ferrell said. "We would do Anchorman 2, the musical on Broadway, and then from there into a film."
Turns out, it's been surprisingly difficult for Ferrell to get the green light for Anchorman 2 by the studio.
 "The sad story is that we finally decided we would love to do a sequel and then we talked to all the guys, and it was lined up to do it, and we presented it to Paramount Pictures and they said 'great', and then it turns out they didn't want to do it."
Regardless, it looks like Anchorman 2 is happening and it's about time. Only a handful of films since the original's 2004 release have matched it's level of laugh-out-loud moments. Like The Hangover, which launched Bradley Cooper, Zach Galifianakis and Ed Helms onto the A-list, Anchorman made household names of Steven Carell and Paul Rudd and that 2009 comedy is set for a sequel, so hopefully Ferrell isn't screwing with us like Carell did on Jimmy Fallon a month ago. Damn (and bless) those clever funny guys!
Source: BBC Radio 1