'Anchorman 2' Set Reveals Champ Kind's New Job: Whammy Chicken! — PIC
The post-Anchorman era has seen a wealth of new phrases enter the American lexicon. Since 2004, state school-educated young men and women (mostly men) everywhere have spouted exclamations like, "I love lamp!" and "Milk was a bad choice!" and "I'm in a glass case of emotion!" No movie in recent years has earned this level of quotability. So it's no surprise that Anchorman 2 might plan to cash in on some of these memorable gems… although it's kind of scraping the battle with this one: "Whammy!"
RELATED: Harrison Ford Joins 'Anchorman 2'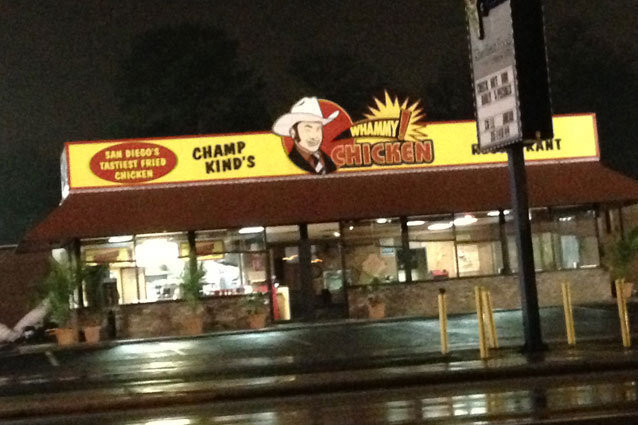 Yes, the continuing adventures of Ron Burgundy will feature a fried chicken franchise borne from sexually confused cowpoke Champ Kind's signature motto, "Whammy!" … the least memorable of the Anchorman catchphrases. The above picture was taken on the Anchorman 2 set by Jimmy Sobeck of Eat It Atlanta, depicting actor David Koechner's likeness smiling atop a San Diego-based restaurant.
RELATED: James Marsden Joins 'Anchorman 2'
So are we to infer that Champ Kind has left the broadcasting business and taken to the food service industry? This makes us wonder what paths the other Channel 4 News Team members might have taken… does Brian Fantana own and operate a mini-golf emporium? Is Brick Tamland a bloodthirsty pirate? We'll find out when the legend continues…
Follow Michael Arbeiter on Twitter @MichaelArbeiter
[Photo Credit: Jimmy Sobeck]
---
You Might Also Like:


Topanga's Revealing Lingerie Shoot: Hello '90s!


Stars Who Have Lost Roles For Being Too Hot (Celebuzz)