'Anchorman 2' Plot Hints Dropped by Adam McKay?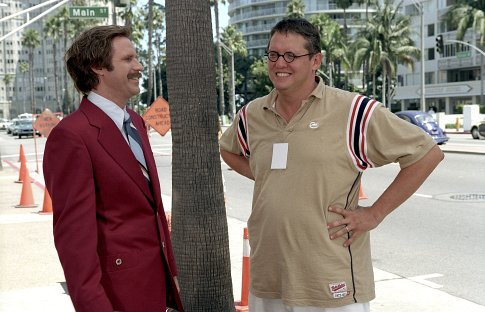 In a recent interview about the officially in-the-works sequel to Anchorman, the movie's writer/director, Adam McKay, served up a pair of hints about what we can expect in the follow-up to the beloved 2004 comedy. Of course, he's a teensy-weensy bit of a jokester whose tongue rarely leaves his cheek, so let's not get in full-on decipher mode just yet.
Here were his exact words when asked specifically about Ron Burgundy (Will Ferrell) in Anchorman 2: "I don't want to give away too much, but I'll just give a couple pieces of ideas that we've kicked around. Keep in mind we're still writing the story, but I'll say one phrase for you: custody battle. I'll give you that. I'll give you one other one: bowling for dollars."
So that's what we have to go on right now. If he was serious, it could mean anything from a nasty split between Ron and Veronica (Christina Applegate) to something silly and a little more abstract like, say, Brick (Steve Carell) and Brian (Paul Rudd) duking it out over a Peabody Award they bought on eBay five years ago. Either way, we're excited — and hopeful that there will also be a ton of "bowling for dollars." The other takeaway from the interview, though, is that it might be some time before we Burgundites get our fix, as McKay admitted that the story is still being written, and although Paramount is no doubt eager to get this on the big screen ASAP, the studio and talent are likely to disagree along the way.
More:
'Anchorman 2': A History of Sequel Rumors and Why It Will Work
'Anchorman 2' Happening, with Will Ferrell
Will Ferrell and Adam McKay Team Up for 'Swear to God'
[Salon]