'Anchorman 2' Will Be Like 'The Newsroom'… But with Musical Numbers!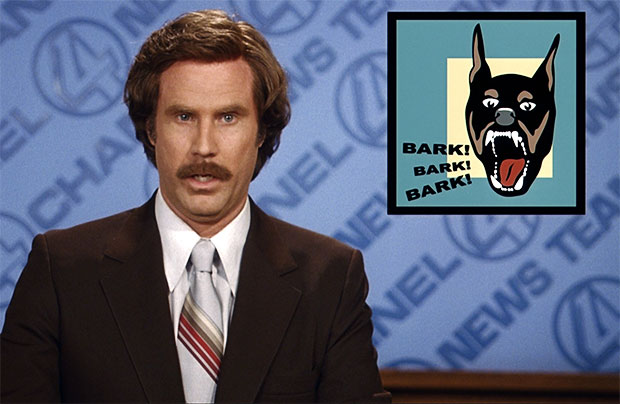 If you think back to the opening lines of the Anchorman (just about the only lines you and your friends don't quote compulsively whilst intoxicated), you will recall a vivid establishment of the film's setting:
There was a time — a time before cable — when the local anchorman reigned supreme. When people believed everything they heard on TV. This was an age when only men were allowed to read the news.
And on it goes, specifying the location to be San Diego and the subject of the story to be Will Ferrell's now iconic Ron Burgundy. But the 2004 comedy's sequel looks to be taking on a different time and place — as it seems, the focus of the forthcoming Anchorman: The Legend Continues will be distinctly more contemporary than that of its predecessor. Adam McKay, Anchorman and Anchorman 2 director and cowriter (along with Ferrell), recently gave The Playlist a few bits of info about his developing followup, specifying the area of interest that will be satirized this time around: the era of the 24-hour news cycle.
"It's all about the rise of the new media and 24 hour news cycle," says McKay. "And there's a lot of interesting points to make about that while being silly." It's a well-tread territory in the world of satire, that's for certain. The likes of Jon Stewart and Stephen Colbert have made livings from their often scathing commentaries about today's news. And Aaron Sorkin's The Newsroom jumped on the bandwagon this past summer, painting the industry in a more reverent (yet hardly flawless) light.
But beyond taking down the contemporary media, McKay is clearly interested in having fun with his movie: "We have some songs already written … whole song sequences for sure." So, we don't have to worry about the movie shirking its silly side in favor of sociopolitical commentary. Anchorman 2 looks to revisit the charm that its predecessor gave us with rainbow rides, milk-fueled hobo tantrums, and dog/bear conversations through the gift of music. And cameos! "We're talking about for Anchorman 2 … having every single one line or three line role, just be someone we just love. Someone like Ian Roberts or Rob Huebel or Paula Killen." They got Tim Robbins the first time, so I imagine we're in for some pretty quality bit players in Round 2.
[Photo Credit: DreamWorks Pictures]
More:
'Anchorman 2' Has a Pants Party! — POSTER
'Anchorman 2' Plot Hints Dropped by Adam McKay?
Watch Both 'Anchorman 2' Teasers Here
'Anchorman 2': A History of Sequel Rumors and Why It Will Work
From Our Partners:

'Twilight' Red Carpet: Rob and Kristen's Awkward New Pics (Moviefone)

Ryan Gosling Birthday; 32 Reasons Why 'The Notebook' Kiss Is Greatest
(Moviefone)