Andrew Garfield on 'Amazing Spider-Man 2' Costume Changes and Superhero Responsibilities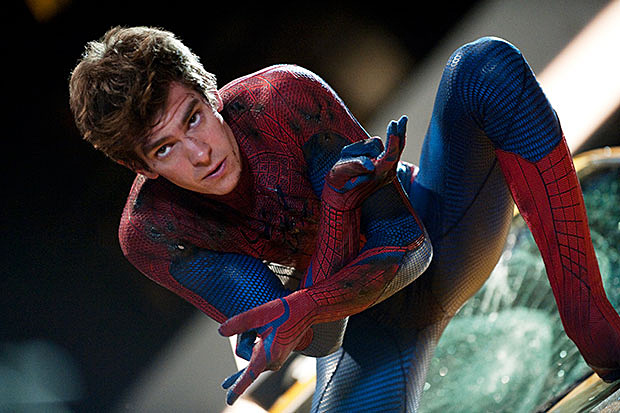 When we caught up with The Amazing Spider-Man's Andrew Garfield last night at the Worldwide Orphans 15th Anniversary Benefit Gala in NYC, he certainly had a lot to say about the highly anticipated sequel. Reuniting Garfield with director Marc Webb and costar Emma Stone, The Amazing Spider-Man 2 hits theaters in 3D on May 2, 2014, and Garfield is excited to explore playing Peter Parker even further.
"It is a responsibility to play that role. And I don't take it lightly," Garfield tells Hollywood.com. "I think there's so much to explore within that mythology and within the tension between living a double life, struggling with being good, struggling with choosing good behavior over bad behavior with the pressures of a city on your shoulders. I think it's a microcosm of being a father. I'm sure that fathers feel the same pressure that Spider-Man feels and to be a hero to their kids. It's all linked."
Garfield was less forthcoming about Peter's future with Stone's Gwen Stacey. "That's up to the writers," Garfield tells Hollywood.com. "I'm not going to give you the answer you're looking for. It's a bold question… In terms of exploring Peter, I want to keep exploring that theme of being fatherless, being motherless, and searching for purpose… That character is a classic orphan. He's one of the most famous fictional orphans."
When we see Spider-Man swing back onto the big screen, expect to see a newly redesigned spidey-suit. This was not merely for appearance purposes, however. "Well the suit is undergoing a redesign because I couldn't urinate in it last time," Garfield said. "So I'm less nervous because that's going to be nice." And as for the beard Garfield has been sporting as of late, don't assume that we're going to see a scruffy Peter Parker. "I just like having a beard," Garfield said. "I never thought I'd be able to grow a beard when I was a kid. Here we are. This is 29 years in the making and I'm proud. I'm just proud to have facial hair. I never thought it would happen."
You better be clean-shaven when filming commences, Garfield. We don't think that spidey-mask will fit over your scruff.
Follow Sydney on Twitter @SydneyBucksbaum
Reporting by Lindsey DiMattina
[Photo Credit: Sony Pictures]
More:
Andrew Garfield, Marc Webb Swing Back for 'The Amazing Spider-Man 2'
Jamie Foxx Will Join 'The Amazing Spider-Man 2' as Supervillain Electro
So When Is 'The Amazing Spider-Man 2' Coming Out?
From Our Partners:

'Twilight' Cast Now and Then (PICS) (Moviefone)
How to Be a Bond Director
(Moviefone)