Andy Serkis at 'The Hobbit' Premiere: Gollum Motion Capture Acting Is 'Just Acting'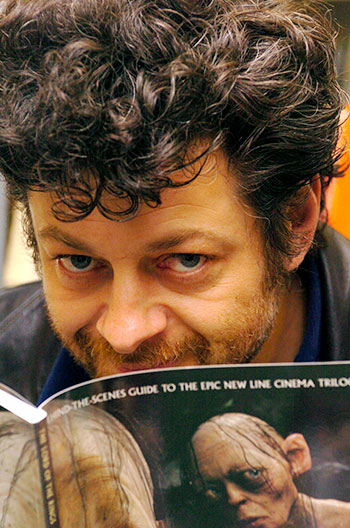 When is an actor not an actor? For some critics, it's when the actor is delivering a motion capture performance.
Some film experts have had trouble categorizing the master motion capture actor, The Hobbit star Andy Serkis, who reprises his role as Gollum in the film. Often, Serkis "lends his voice" to a character, but if you ask him, it's not as simple as providing a little chatter for his character.
"You have to understand that motion capture is just another technology for recording an actor's performance, it's not a genre of acting. It's just acting, that's what it is," said Serkis while walking the Red Carpet at the New York premiere of Peter Jackson's new film.
Serkis, who's used his talents to give life to Caesar in Rise of the Planet of the Apes and the giant ape in 2005's King Kong in addition to years as Gollum, truly becomes these characters, thanks to the sophisticated motion capture technology available to film makers.
But the entertainment world hasn't quite caught up with Serkis' views on the subject. Many fans were upset to learn that Serkis was "snubbed" by the Oscars for his role in the Lord of the Rings trilogy and again for Rise of the Planet of the Apes, raising the question of whether or not motion capture acting is a category all it's own. Serkis says nay: "The authoring of the role comes from the actor and so you have to look at it alongside any other actor and judge it."
Of course, audiences can judge Serkis' latest performance for themselves when The Hobbit hits theaters Dec. 14.
Follow Kelsea on Twitter @KelseaStahler
[Photo Credit: J. Quinton/WireImage]
More:
'The Hobbit: An Unexpected Journey' Does What the 'Star Wars' Prequels Failed to Do
Before You Buy Tickets: What 'The Hobbit' in HFR (aka 48FPS) Actually Means
Peter Jackson Takes Stage at 'The Hobbit' Premiere to Refute Animal Death Rumors

12 Funniest Movie Presidents in Film (Moviefone)

New 'Star Trek Into Darkness' Trailer! — Cue Khan Scream (Moviefone)