Angelina Jolie's Daughter Vivienne Jolie-Pitt to Appear in 'Maleficent'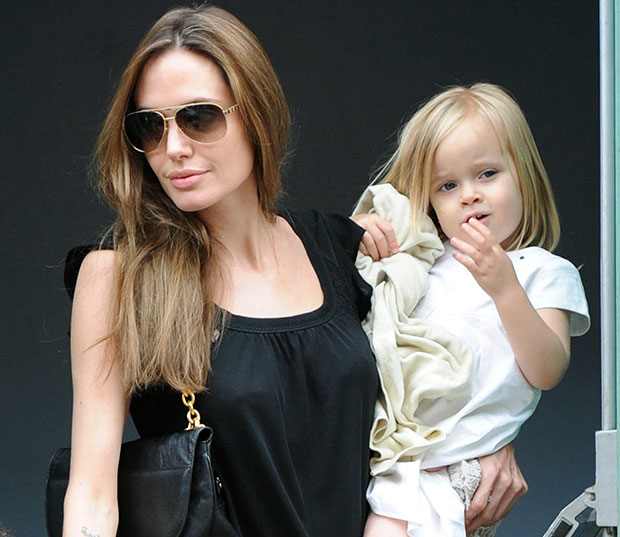 Like mother, like daughter. Vivienne Jolie-Pitt, daughter of power couple Angelina Jolie and Brad Pitt, will make her acting debut alongside her mom in Jolie's upcoming Sleeping Beauty spin-off, Maleficent, Walt Disney Studios confirms for Hollywood.com. 
Vivienne, who is four years old, has been cast in the small role of a young Princess Aurora, the older version of whom will be played by Elle Fanning (14). Vivienne isn't the first of the Jolie-Pitt brood to join a parent on the silver screen. At only 10 months old, Shiloh joined her dad for a cameo role in his 2008 film The Curious Case of Benjamin Button (she played Cate Blanchett and Pitt's daughter). 
Disney's Maleficent, which is slated for a March 2014 release, will explore the origin story of Sleeping Beauty's evil fairy and the events that led Maleficient to cast her spell on the baby Aurora. Promotional materials for the film have revealed that Jolie's costuming will stick closely to Disney's 1959 rendering in Maleficent, horned headdress and all. 
Follow Abbey Stone on Twitter @abbeystone
[Photo Credit: Fame Pictures]
More:
Angelina Jolie's '50 Shades of Grey': When Big Stars Just Don't Work
Angelina Jolie Channels 'Twilight' & 'Harry Potter' — PIC
Angelina Jolie's Full 'Maleficent' Costume: Will Disney Do Dark?