Angelina Jolie's Full 'Maleficent' Costume: Will Disney Do Dark?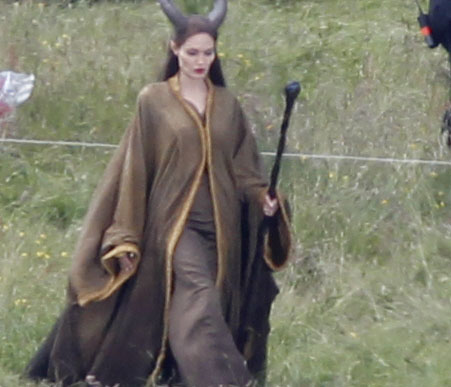 The only thing about Maleficent that annoys me more than having to spell check the title every single time I write it is having to wait for images to be released from the set. Will this Sleeping Beauty origin story about its green-faced villain (who looks decidedly pale in the re-telling) take a page from action-packed fairy tale fare like Snow White and the Huntsman, or aim to mimic the colorful ridiculousness that was Mirror, Mirror? Disney, I need to know! I won't even complain about having to spell Malifi — dammit — Maleficent any more!
Thankfully, the studio gave us curious fans a happily ever after Tuesday when it released
its first image
of star
Angelina Jolie
as the wickedly gorgeous queen. And, even better, today brings us a new image directly from the set showing the actress in full Maleficent costume. So what's the verdict? It's hard to say — though Maleficent's overall look in the re-telling is relatively faithful to 1959's 
Sleeping Beauty
(unlike, say, Kristen Stewart's Snow White), director Robert Stromberg certainly seems to be favoring darker tones.
(OG Maleficent has a bit more purple pride. See right.) But, then again, when has Disney ever truly embraced dark? (And now its time for you smart film buffs to bring up
The Black Cauldron
. Go ahead. I don't mind.)
Additional question: Where's Maleficent's handy sidekick Diablo? And will he be played by Rob Schneider? You're going to make me wait again to find out, aren't you, Disney?