Angelina Jolie Set To Star In 'Salt' Sequel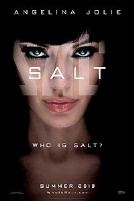 Sony is prepping a sequel to Salt because, well, duh of course they are. The movie studio knows that dressing Angelina Jolie up in tight leather and giving her a gun pretty much guarantees a financially successful movie.
According to Deadline, Sony hired the original's writer Kurt Wimmer and he's already writing the script, which will follow up on the first film's story in which Jolie's character is a CIA operative outed as a Russian spy. After mediocre reviews and a disappointing U.S. box office turn out, the first film went on to gross about $300 million worldwide and left an opening for a sequel, further proving that this was more of a question of "when" versus "why." So, once again, duh.
Source: Deadline