'Anna Karenina' Star Keira Knightley on Playing 'Morally Ambiguous' — EXCLUSIVE VIDEO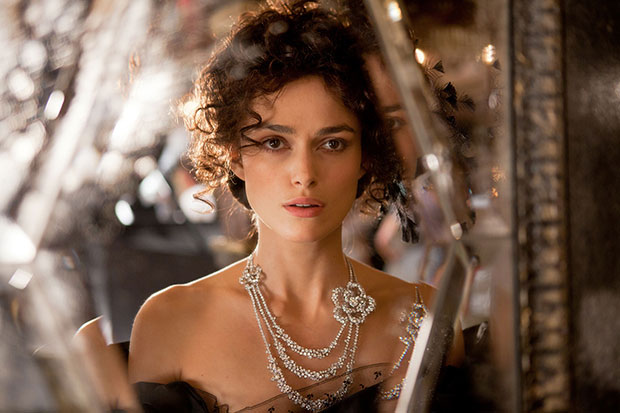 Anna Karenina marks Keira Knightley's third collaboration with director Joe Wright, and on the surface, it might look like a retread of territory the duo have already explored. In Wright's 2005 film Pride and Prejudice and 2007's Atonement (both movies that earned Knightley a bevy of award nominations), the actress explored the visceral experiences of romance — in these stories, she plays a compassionate woman with whom we side in her struggle to either wind up with the one she loves or to brave the tragedy of having him ripped out of her life. In their adaptation of Leo Tolstoy's classic love story, Knightley and Wright once again tackle the theme of love, but with a character who is far more complicated.
"I saw her as very morally ambiguous," says Knightley. "I don't think that the function of the character was that Tolstoy was holding her up and saying, 'Hey everyone look at this. Isn't she wonderful?'" Continuing to push herself and work with her frequent collaborator, Knightley turned Anna into a multifaceted character, amounting to one of her best performances to date. Surrounded by Wright's stylistic vision, it's a rousing cinematic experience.
In this exclusive clip from the Anna Karenina Q&A conducted for EPIX and LA Times' Envelope Screening Series, Wright and Knightley discuss digging into the meaty material and working it into a movie that never attempted to be straightforward. Difficult, but rewarding. Check out the video below. Anna Karenina is in theaters now.
Follow Matt Patches on Twitter @misterpatches
[Photo Credit: Focus Features]
More:
Philip Seymour Hoffman to 'Master' Director: 'You and Your Stupid Camera' — EXCLUSIVE VIDEO
TIFF 2012: 'Anna Karenina' is Cinema, Theater, Opera, Ballet, and Brilliant
'Rust and Bone' Star Talks Marion Cotillard's Amazing Transformation — EXCLUSIVE VIDEO