Anne Hathaway Post-Oscar Prospects: A New 'Taming of the Shrew'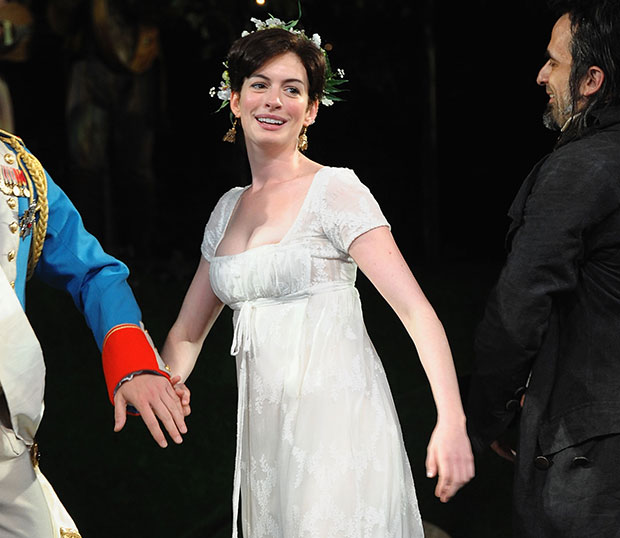 Despite last week's Academy Award nominations leaving us with a few raised eyebrows and a heap of questions, one actress stands out as the prestigious ceremony's sure thing. After a stirring performance in Les Misérables, any Oscar pool participant would be remiss to bet against Anne Hathaway. Unless they wanted to be "that guy."
Paired with her rave-worthy performance in the summer's The Dark Knight Rises, Hathaway is riding high and, judging from her next project, aiming to keep her quality-level on the ups. The Wrap reports that Hathaway has signed on to star in a new adaptation of William Shakespeare's Taming of the Shrew, to be penned by Shame and Iron Lady screenwriter Abi Morgan. Hollywood.com has reached out to Hathaway's reps for confirmation, but they were not immediately available for comment.
At the center of Shakespeare's original version of Shrew is Katherina, a strong female character unwilling to play ball when Petruchio, a potential suitor, comes knocking at her door. Through mind games and mischief, Petruchio eventually "tames" Katherina to become his wife. With a vivacious and keen actress like Hathaway in the lead, it's likely Morgan may be playing loosely with the source material for their upcoming movie version.
This won't be the first time Shrew has made its way to screen: the play has had its fair share of straight adaptations, versions dating as far back as 1908, and has been routinely modernized, most recently as 1999's 10 Things I Hate About You and the 2003 LL Cool J film Deliver Us from Eva. The legendary play even found its way to Broadway, in the form of Cole Porter's 1948 musical Kiss Me, Kate.
The news comes in the wake of Hathaway's potential collaboration with Steven Spielberg, the blockbuster sci-fi flick Robopocaylpse, heading back into the oven for further development. Looking to fill the gap, Taming of the Shrew could come together quickly for the actress. Hathaway will also lend her voice to the upcoming sequel Rio 2, currently in the works from Blue Sky animation.
Follow Matt Patches on Twitter @misterpatches
[Photo Credit: Dimitrios Kambouris/WireImage]
More:
'Les Misérables': Anne Hathaway Reveals She Was the Cosette to Her Mother's Fantine
Oscar Nominees 101: Everything You Need to Know About the Stars and Their Movies
'Les Misérables': Anne Hathaway Reveals She Was the Cosette to Her Mother's Fantine

Megan Fox's 12 Hottest Moments (Moviefone)