Anne Hathaway's Catwoman Has Ears in 'The Dark Knight Rises' Set Photos

Julie Newmar fought Adam West. Michelle Pfeiffer battled Michael Keaton. Halle Berry…took a crack at it. But are we to see, facing off against Christian Bale in Christopher Nolan's upcoming film The Dark Knight Rises, the greatest Catwoman in Batmanian history? It's difficult not to entertain the thought. Anne Hathaway is a regal performer, and she is in the company of a Nolan script and camera.
For those in the Hathaway corner, 
Just Jared
has released a still of the actress in costume as one of Gotham's most iconic villains. Early on in production, questions to whether Hathaway would actually be portraying Catwoman or simply her alter ego Selina Kyle (perhaps in a pre-Catwoman phase) were abundant. This should put a lot of that to rest, if anyone out there was still in doubt. The ears—a dead giveaway.
And that's good news. We like bad guys.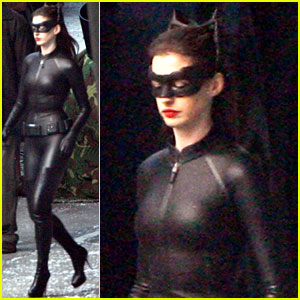 Source: Just Jared