Anne Hathaway to Reach New Levels of Adorable in Mindy Kaling Rom-Com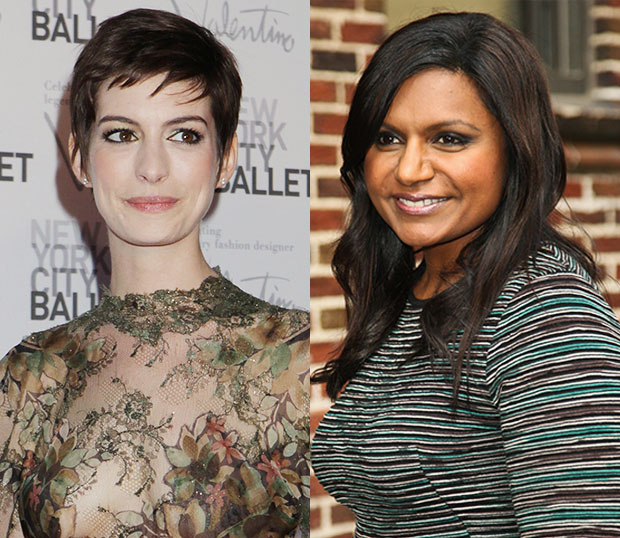 If you feared that Anne Hathaway's recent marriage to longtime boyfriend Adam Shulman would take her out of the romantic lead game, think again.
Following her butt-kicking performance in The Dark Knight Rises, and what could be another notch on her awards belt courtesy of tearjerker musical Les Miserables, Hathaway is reportedly attached to star in a movie that sounds a bit fluffier. The Hollywood Reporter reveals that the actress is attached to star in The Low Self-Esteem of Lizzie Gillespie, a romantic comedy written by The Mindy Project star Mindy Kaling. Kaling wrote the script with her former Office colleague Brent Forrester, and saw it placed on the 2009 Black List, a ranking of Hollywood's best unproduced screenplays.
The past few years have seen Hathaway's leading lady status grow exponentially, with big name directors courting her for name projects. But she does have romantic comedy cred that makes the prospect of a team up with Kaling enticing. Between Becoming Jane, Bride Wars, and Love and Other Drugs, Hathaway has effectively run the gamut of every subsection of the rom-com genre. We'll have to wait until Lizzie Gillespie finds its way into theaters to know where it fits in the spectrum, but with a promise of Hathaway and Kaling, there's one certainty: there's going to be a boatload of cute.
Follow Matt Patches on Twitter @misterpatches
[Photo Credit: WENN (2)]
More:
Hathaway and Jackman Redefine 'Les Misérables' with On-Set Singing — VIDEO
The Dark Knight Rises': Why Anne Hathaway's Catwoman Is the Best One Yet