Anne Hathaway Nabs Her First Post-Oscar Project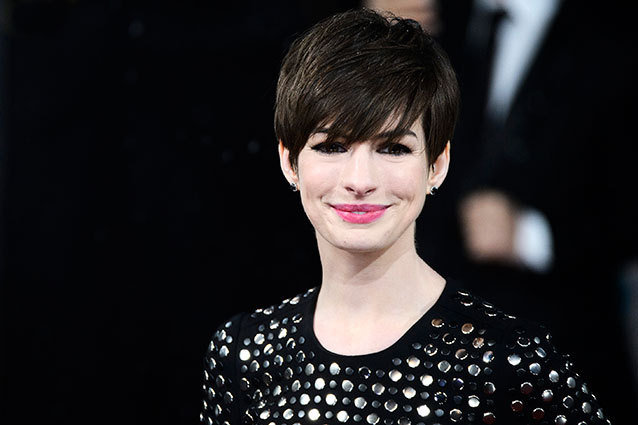 Over the past few years, the post-win projects of the Academy Award's Best Supporting Actresses have included guest stints on TV shows like 30 Rock (Octavia Spencer) and Louie (Melissa Leo), another Oscar-nominated turn (Penelope Cruz in Nine) and, well, disappearing from the spotlight completely (Mo'Nique). 
RELATED: Anne Hathaway Apologizes For Her Ugly Oscar Dress 
On the other end, it looks like Les Misérables star Anne Hathaway will be following up her Oscar victory with a dark comedy. (Before her Oscar win, reports had Hathaway pegged to star in an adaptation of The Taming of the Shrew). 
RELATED: Why Does Everyone Hate Anne Hathaway? 
According to Deadline, the actress is in "deep negotiations" to star Laggies, the Lynn Shelton-directed, Andrea Seigel-penned film about an irresponsible woman named Megan (what would be Hathaway's role) who hides out with her new 16-year-old best friend Annika (played by Chloe Grace Moretz) after she runs away from her boyfriend's proposal. Paul Rudd, Sam Rockwell and Mark Webber are all names that have been linked to the project as well. 
RELATED: Watch the 2013 Oscar Acceptance Speeches Here!
Hollywood.com reached out to Hathaway's rep for confirmation about the Laggies casting report, but they could not immediately be reached for comment. Still, Moretz all but confirmed the news for the world when she tweeted, "Thank you to Lynn for letting me do this awesome movie with Annie 🙂 I'm so excited to do this :)."
[Photo credit: Ben Pruchnie/FilmMagic]
---
You Might Also Like:


15 Oscar-Winning Nude Scenes


10 Insane 'Star Wars' Moments You Didn't Notice