Another Day, Another 'Potter' Box Office Record!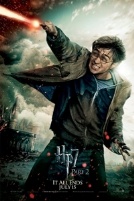 Warner Bros.' Harry Potter and the Deathly Hallows, Part 2 continues to astound as it posts the biggest single-day gross in box office history with an almost unimaginable $92.1 million in its Friday debut in 4,375 theaters.  Potter 7, Part 2 takes the all-time single-day crown from The Twilight Saga: New Moon which earned $72.7 million in its debut on Friday, November 20, 2009 after posting the then second best midnight gross of $26,270,000.  
The Friday gross includes record-breaking North American midnight grosses of $43.5 million from shows (in 3,800 locs) starting at 12:01am and $2 million in record setting IMAX midnight grosses.  The film could break a Saturday record as well if it tops the $51.3 million generated by Spider-Man 3 on its second day of release, May 5, 2007.  At this breakneck pace could a $160 million plus (or beyond) record-breaking opening weekend be in the cards?  That remains to be seen, but one thing is certain, The Dark Knight and its July 2008 record opening weekend of $158,411,483 is possibly one day away from moving to the second spot on the all-time chart.
Note:
Friday 7/15/11 was a record single day gross for the industry with $117.0m (based on Estimates)
Previous was 11/20/09 (New Moon opening) $107.1m
Click on this link to see our story – Harry Potter 7 Breaks All-Time Opening Weekend Record!
Click on this link to see our story on the Record-Breaking Midnight Screenings for Potter 7, Part 2
TOP SINGLE-DAY MOVIE GROSSES OF ALL-TIME               
HOLLYWOOD.COM BOX-OFFICE               
RANK    Day of Release    Day of Week    Date    Single-Day Gross
    HARRY POTTER AND THE DEATHLY HALLOWS, PART 2 (WARNER BROS.) – Opened 07/15/11           
1    1    Friday    7/15/2011    $92,100,000
    THE TWILIGHT SAGA: NEW MOON (SUMMIT ENT.) – Opened 11/20/09           
2    1    Friday    11/20/2009    $72,703,754
    THE TWILIGHT SAGA: ECLIPSE (SUMMIT ENT.) – Opened 06/30/10           
3    1    Wednesday    6/30/2010    $68,533,840
    THE DARK KNIGHT (WARNER BROS.) – Opened 7/18/08           
4    1    Friday    7/18/2008    $67,165,092
    TRANSFORMERS: REVENGE OF THE FALLEN (PARA) – Opened 6/24/09           
5    1    Wednesday    6/24/2009    $62,016,476
TOP 5 OPENING WEEKENDS OF ALL-TIME – UPDATED THROUGH JULY 16, 2011               
Hollywood.com Box-Office        
Sorted by 3-day opening F/S/S   
RANK    TITLE    DISTRIBUTOR    3-DAY OPENING    RELEASE DATE
1    DARK KNIGHT, THE    WARNER BROS.    $158,411,483    Fri, 7/18/08
2    SPIDER-MAN 3    SONY    $151,116,516    Fri, 5/4/07
3    TWILIGHT SAGA, THE: NEW MOON    SUMMIT ENT.    $142,839,137    Fri, 11/20/09
4    PIRATES OF THE CARIBBEAN: DEAD MAN'S CHEST    BUENA VISTA    $135,634,554    Fri, 7/7/06
5    IRON MAN 2    PARAMOUNT    $128,122,480    Fri, 5/7/10