'Ant Man' Test Footage Teases Comedy Action Adventure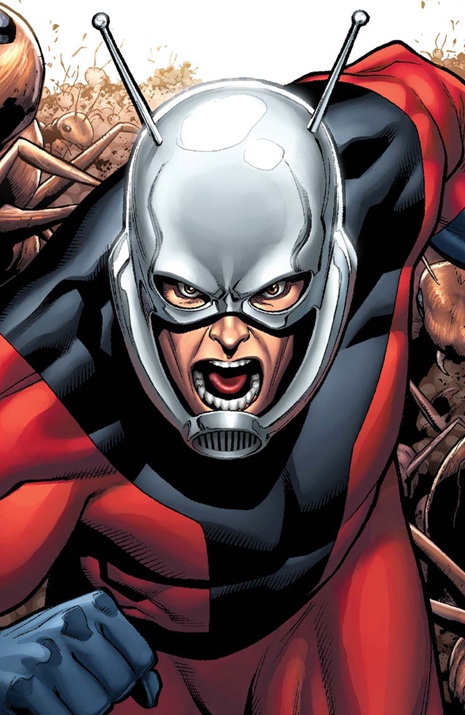 There's something about the realm of comic book movies that just begs for the spread of rumors. Beyond any other subculture, fans will spread hopeful gossip about their favorite serials and graphic novels taking form on the big screen. One of the most buzzed about unconfirmed projects, for quite some time now, has been a film adaptation of the Marvel Comic Ant Man, with a slew of creative forces (including director Edgar Wright) expressing interest in the prospect. No longer will fans have to pray to the Marvel gods (you know, like Thor): Ant Man is officially getting a movie…and we saw the first footage:
Ant-Man lurks in a vent, spying on two guards in sunglasses (because he's the size of the ant and he can do that). Edgar Wright wanted a practical costume, a mix the silver age and contemporary Ant-Man and it looks great. He rolls out of the vent and enlarging to sprint down the corridor. He shifts his size once more, micro size again in order to run along the top of on guard's gun. He jumps off the barrel and punches the guard in the face. Even in his super small size, he packs a huge wallop, a slow mo shot whipping the guy's mouth all to one side before sending him into a wall. Ant-Man enlarges once again to throw the second goon through the door. In true Edgar Wright spirit, the scene is filled with comedic beats, capping off with Ant-Man casually enters the elevator. All in a day's work.
Marvel made the announcement at 2012's San Diego Comic-Con. 
Follow Matt Patches on Twitter @misterpatches
More:
More:
The Future of Marvel Movies Looks Absolutely Insane
Post-'Avengers': What's Next for the Marvel Heroes
Catch Up on all of Hollywood.com's Comic-Con Coverage!
[Photo Credit: Marvel Studios]