'Apocalypse Now' Blu-Ray Giveaway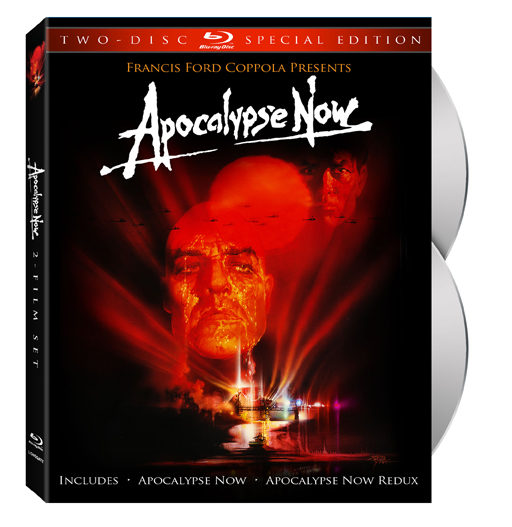 It's considered one of the greatest films of all times, a timeless masterpiece directed by Francis Ford Coppola and we're just giving it away.
Apocalypse Now hits stores on Oct 19 and five (5) lucky winners will be getting the 2-Film Set Blu-ray with Special Features version.
About the Film
The iconic film about the hell of war that has captivated audiences for decades features an all-star critically acclaimed cast that includes Marlon Brando (The Godfather), Martin Sheen (TV's "The West Wing"), (Crazy Heart), Dennis Hopper (Easy Rider), Harrison Ford (The Indiana Jones series) and Laurence Fishburne (The Matrix Trilogy).
How To Enter:
1. Follow us on Twitter by clicking HERE.
2. Tweet this post by clicking the Tweet button at the top of this page.
We'll pick 5 (five) random winners to be announced on Monday, Oct 18.
NOTE: You MUST have a valid U.S. address.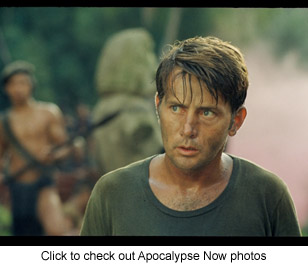 About the Prize:
APOCALYPSE NOW 2-FILM SET BLU-RAY DISC SPECIAL FEATURES (SRP $39.99)
• Apocalypse Now and Apocalypse Now Redux – presented in 1080P High Definition
Widescreen, in their original 2.35:1 theatrical aspect ratios and new 5.1 DTS-HD Master Audio
• NEW "A Conversation with Martin Sheen and Francis Ford Coppola"
• NEW "An Interview with John Milius" interview by Francis Ford Coppola
• NEW "Fred Roos: Casting Apocalypse" featurette
• NEVER-BEFORE-SEEN Complete Francis Ford Coppola interview with Roger Ebert at the 2001 Cannes
Film Festival
• NEW TO THIS EDITION Original 1938 Mercury Theatre Radio Reading of "Heart of Darkness" featuring
Orson Welles
• Monkey Sampan "lost scene"
• Additional Scenes
• "Destruction of the Kurtz Compound" end credits with audio commentary by Francis Ford Coppola
• "The Hollow Men," video of Marlon Brando reading T.S. Eliot's poem• "The Birth of 5.1 Sound" featurette
• "Ghost Helicopter Flyover" sound effects demonstration
• "A Million Feet of Film: The Editing of Apocalypse Now" featurette
• "The Music of Apocalypse Now" featurette
• "The Synthesizer Soundtrack" article by music synthesizer inventor Bob Moog
• "Heard Any Good Movies Lately? The Sound Design of Apocalypse Now" featurette
• "The Final Mix" featurette
• "Apocalypse Then and Now" featurette
• "The Color Palette of Apocalypse Now" featurette
• "PBR Streetgang" featurette
• "The Color Palette of Apocalypse Now" featurette