'Argo,' Jodie, Tina, and Amy: The Golden Globes Gave Us a Crazy Night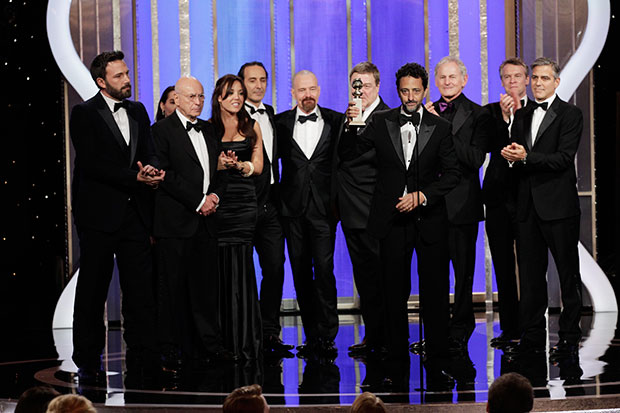 The problem with awards shows is that, no matter how much we talk about them and dissect them before they happen, it's hard to recall even one winner one year later. We spend a lot of time thinking about them and hardly any time remembering them. That said, I don't know that we're going to have that problem next January, since 2013's Golden Globes ceremony was full of moments that stuck out like, well, Jennifer Lawrence's boobs in that awful red dress.
First of all, we have to talk about Amy Poehler and Tina Fey, who were not only the most fetching Golden Globes hosts ever (but when your only competition is Ricky Gervais, that's a dubious distinction), but also the funniest. There's no denying their opening monologue was absolutely hilarious. There were no groaners and there were no misses — just two great comedians doing their best work. (Regarding how to distinguish the styles of the two host, Poehler delivered the punches while Fey played the part that you can't find in the fashion world: the straight man.) The jokes were edgy too – comparing the Hollywood Foreign Press Association to an STD, calling life with James Cameron "torture" (see Kathryn Bigelow's reaction here), and dissing James Franco for being a crappy Oscar host. Several of their jokes got the "Oh no they didn't" gasps that were Gervais stock in trade, but they were all accompanied by something that Gervais never got much of: laughs.
Sadly, Poehler and Fey were absent for large chunks of the show while the Golden Globes did what awards shows should do: hand out awards. The duo still delivered some great gags (see: their fake nominations for Dog President, a made-for-TV movie Animal Planet is putting into development first thing tomorrow morning), but the other presenters kept up the pace. Sacha Baron Cohen made some equally edgy jokes (one about Anne Hathaway's upskirt picture fell flatter than 12-year-old soda) and Kristen Wiig and Will Ferrell's mustache did a wonderfully rehearsed gag that made it look like they were making up their introduction on the spot. Of course, Paul Rudd and Salma Hayek did have to make it up on the spot when their teleprompter went blank but, hey, it wouldn't be a live show without a snafu or two.
One of the biggest "What the hell?" moments was came courtesy of Bill Clinton, the former president of the United States, who took to the stage to introduce Lincoln. Granted, it's easy to assume he had an ulterior motive for being in the room (Hillary 2016 campaign contributions, anyone?), but why not get in on the Globes fun? And while he got a standing ovation, George W. Bush was at home watching a rerun of Swamp People.
Now, we need to talk about Jodie Foster's speech. Or should I call it a free associative ramble? Yes, as you heard on Twitter, the actress addressed her sexuality (sort of) while accepting the Lifetime Achievement Award for Humanitarian Goodness and Giving Us the National Treasure Nell. I'm not going to take umbrage with it… okay, I am. First of all, she asked for privacy from the stage of a nationally televised award show that is being watched by millions of people. That makes about as much sense as protesting people wearing fur at a rodeo. Secondly, she made us believe she was about to say the word "lesbian" in public for the first time in her life, but then pulled a bait and switch by saying, to paraphrase, "Haha, no I won't come out in public. Doing that would be disgusting, like being on a reality show. People who come out are as gross, unintelligent, and indulgent as Honey Boo Boo Child and anyone who does it is kind of a mess." Then she thanked Mel Gibson, an anti-Semetic homophobe with an alcohol problem, and sounded like she said she was going to retire but maybe she wasn't. The one thing she didn't do was apologize for The Beaver (which, like coming out, she really needs to do publicly), but otherwise she hit on just about every other topic germane to Hollywood today in her ramble. And it was amazing.
The other acceptance speech trend? Double dipping to get in a few more thank yous after stars' time at the podium was up. Ben Affleck had his wife Jennifer Garner get in a thank you for Argo producer George Clooney when she got up to present an award and Anne Hathaway used her time on the stage for Best Funny Movie or Movie With Singing when Les Misérables won to finish off her Best Supporting Actress speech. But there was a distinct difference between the two belated thank yous. When Affleck had Garner do it, it was kind of sweet, especially since Affleck won't have the opportunity to make an Oscar speech in a few months — despite his Best Director win at the Globes, Affleck was snubbed in the category by the Academy. But Hathaway? Ugh, Hathaway. Her interruption was inexcusable. It made the win about something other than the movie — it made it about her. Hathaway had already won. She had her moment! And her speech was already full of platitudes and seemingly manufactured surprise that will only fuel the inexplicable deep-seated hatred many pop culture fans have for the actress.
That said, at least she showed up. I've said it before and I'll say it again, we need to stop giving Maggie Smith awards — she'll never show up to accept them. She's gotten Emmys and Golden Globes and People's Choice Awards and Teen Choice Awards and American Music Awards and just about every honor under the sun. Why can't she make it? Was she at home with Judi Dench (another no-show nominee) drinking Crème de Menthe and talking smack about Julian Fellowes' wife? Ed Harris was also a no-show when he won for Game Change, but luckily Anne Hathaway got on stage and made another speech on his behalf. Meryl Streep also couldn't make it because she had the flu, but rumor is she was great in it.
As for the awards themselves, Argo and Les Mis taking home top honors in the film departments was slightly surprising, but the wins were hardly undeserving. On the other hand, the triumphs of Jessica Chastain, Daniel Day-Lewis, Hugh Jackman, and Jennifer Lawrence were a bit more predictable. As was the TV drama category: Anyone who watched the Emmys (or last year's Golden Globes) knew that Homeland would pick up its three awards. But Girls and Lena Dunham (who should only wear dresses that cover her tattoos) were non-traditional choices, but, then again, the HFPA has a history of rewarding eclectic comedies. (See: Extras, 30 Rock, and Glee.) A win for Don Cheadle (the only person of color to win and one of only four nominated) for House of Lies falls under the same jurisdiction.
But on Monday morning, everyone is going to be talking about the ladies of the night, Amy, Tina, and Jodie. They all made big splashes and created something that is even better than an award and will probably last even longer than a trophy. They, for once, made memories.  
Follow Brian Moylan on Twitter @BrianJMoylan
[Photo Credit: Paul Drinkwater/NBC]
More:
2013 Golden Globe Awards: See the Full List of Winners Here!
10 Best Insults at the 2013 Golden Globes: Someone Give Russell Crowe a Hug
Globes 2013: Tina Fey & Amy Poehler Deliver The Best Monologue Ever?

Golden Globes: Tina and Amy's Best Zinger's (Moviefone)