'Argo': Watch Ben Affleck's Fake Movie  — TRAILER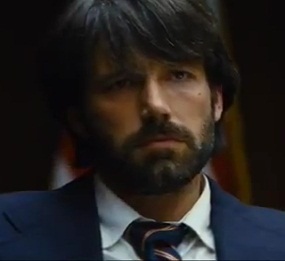 Below is the first trailer for Ben Affleck's forthcoming directorial project Argo. Although it might be more accurate to say, the first three trailers for Affleck's Argo, because when you watch the video, you get a thriller, a comedy, and a heavy political drama. Here's a quick rundown:
Beginning of Trailer – 1:00 Mark: Espionage Thriller
This is likely the sort of movie you expected when you heard about Affleck's plans to direct Argo. Affleck and his team of government agents collaborate on a high-intensity heist of sorts; a plan to free fellow Americans from Iran before they are executed. Stakes, tension and adrenaline are all high. Affleck's past project The Town comes to mind.
1:00 Mark – 1:30 Mark: Industry Comedy
The first twist — and easily the most surprising and enjoyable segment of the trailer. This is where Mendez's (Affleck) plan is introduced: pass the trapped Americans off as a filmmaking team (as opposed to a group of government agents) in order to trick the Iranian government into freeing them. In order to do this, the agency needs to immerse itself in Hollywood. The industry in-jokes commence, as does the general feel of a Coen Brothers comedy. And one done pretty well!
1:30 Mark – End of Trailer: Political Drama
Another table-turner, and a less welcome (though understandably necessary) one. The trailer's gravity spikes. Suddenly, this isn't a fun, quirky rescue mission. It's a political statement. It's a do-or-die, greater-than-the-sum-of-its-parts testament to the value of human life, and a lens pointed at the injustices in the world. The term "Oscar bait" comes to mind.
Check out the below trailer, and let us know which kind of movie you want Argo to be.
More:
Release Date Carousel Continues: Argo, Dictator, More Shift Schedules
Ben Affleck Lets Himself Go in New Argo Image