Arnold Schwarzenegger Assembles His 'The Last Stand' Team — EXCLUSIVE PIC
At 65, Arnold Schwarzenegger may not be the big screen's likeliest hero. But judging from the trailers for January's The Last Stand, the action mainstay is fully prepared to resume his position as cinema's biggest ass-kicker. Age isn't a factor for Schwarzenegger — he's still ripped, more than capable of packing heat, and game to bust any evildoer who crosses paths with his law enforcing character.
In the English debut from imaginative Korean director Kim Jee-woon, Schwarzenegger plays Ray Owens, a former LAPD narcotics agent who takes on a sheriff duties in a small border town. Thinking he's out of harm's way for good, Owens' life is turned upside down when the head honcho of the country's biggest drug cartel escapes imprisonment and flees to Mexico. Like any good Schwarzenegger character, Owens may not be enitrely prepared to blow away an army of bad guys, but he's certainly willing to try. The Last Stand riffs on the elements of a Western, throwing Schwarzenegger into a deadly showdown.
And what would a showdown be without a few friendly companions and a boatload of weaponry? In this exclusive image from the film, Schwarzenegger sizes up his team and armory, Rodrigo Santoro (Lost, Che) ready with the gatling gun seen in the film's poster, and Jaimie Alexander (Thor) packing… a tommy gun? Why not.
Check out the pic below and watch out for The Last Stand, which arrives Jan. 18, 2013: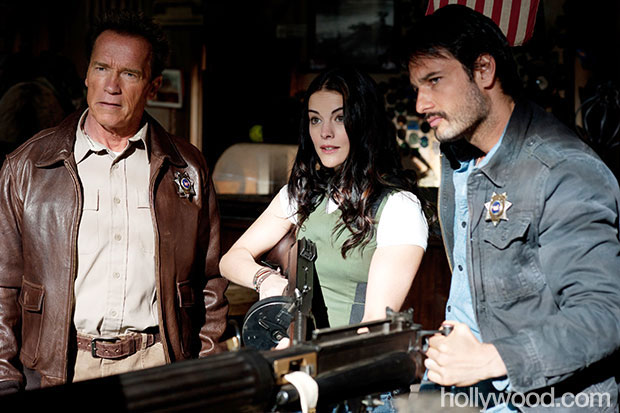 Follow Matt Patches on Twitter @misterpatches
[Photo Credit: Lionsgate]
More:
Count the Guns with Arnold Schwarzenegger in 'The Last Stand' — TRAILER
'The Last Stand': What Will Be This Movie's 'Hasta La Vista, Baby'? — POSTER
Arnold Schwarzenegger's 'The Last Stand': Every Single Thing Gets Shot — TRAILER

25 Things You Didn't Know About 'Aladdin'

Best Hit Men Movies Ever