Arnold Schwarzenegger: I Hated 'Terminator Salvation' Too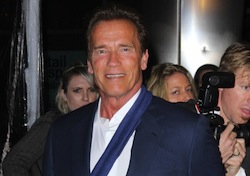 Clearly, Arnold Schwarzenegger isn't above doing a sequel. Since making his return to acting after serving as governor of California, Schwarzenegger has already shot a role in The Expendables 2 and signed on for a Twins sequel with Danny DeVito. However, he did hate one of the sequels to his films — and coincidentally, he didn't really appear much in that one.
"[I'm open to] all those things, if it's True Lies, Terminator, a well-made Terminator… the last one was awful," Schwarzenegger tells Collider. "It tried hard, not that they didn't try, the acting and everything. It missed the boat."
You might remember seeing the Governator in Terminator Salvation, but he actually had little to do with the film since his cameo was accomplished using CGI. (That's why he looks a little more robotic than usual, though it's definitely appropriate for the role.)
While it may be undignified to bash a film that made you millions, Schwarzenegger isn't just pulling a Shia LaBeouf here. He's already signed on for a fifth Terminator installment, which will attempt to salvage the series.
[Collider]
More:
Arnold Schwarzenegger Reunites with Sylvester Stallone for 'The Tomb'
Bruce Willis, Arnold Schwarzenegger Join 'Expendables 2'
Arnold Schwarzenegger Returns To Movies With 'The Last Stand'