Ashton Kutcher as 'jOBS': How Well Does He Pull Off Nerd? — PICS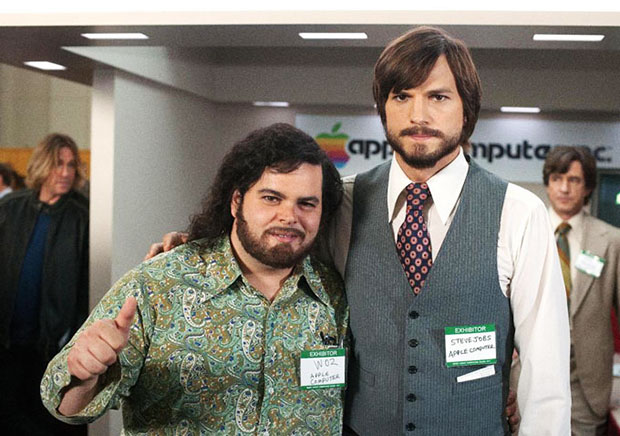 Our first visual taste of Ashton Kutcher's portrayal of Apple founder Steve Jobs was, in a word, creepy. But try as we might to erase that mental image of the former Michael Kelso sprawled shoeless on his office desk, we knew that we'd be seeing more: Kutcher is headlining one of the two developing biopics of the entrepreneur, the independent project titled jOBS, to close out this year's Sundance Film Festival. Now, straight from the movie's Facebook page, we get a decidedly more affable image of Kutcher, beside his costar Josh Gad (embodying Jobs' partner Steve Wozniak), attempting with all their might to pull off the aura of nerd occupied by the ingenious electronics icons.
Gad has a field day with the visually colorful Woz, draping his character in Hawaiian shirts, scraggly beards, and a charmingly awkward smile. But is Kutcher believable as the brilliant mind behind Apple? Is he too loose, too fervently upholstered with magazine looks, to deliver a convincing Jobs? Sure, he opts for rigidity in the above pic, and delves full force into Jobs' passion for the work in the below, but we'll have to wait until some actual footage to decide if Kutcher's performance isn't just Walden Schmidt 2.0.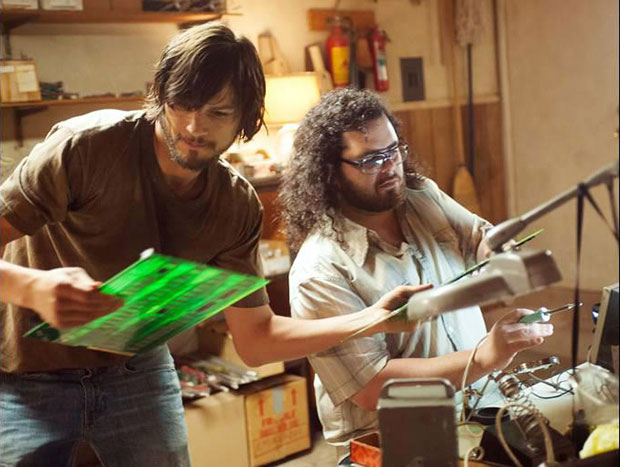 [Photo Credit: Open Road]
More:
A New Apple Release (Kind of): Ashton Kutcher's 'jOBS' to Drop in Theaters April
Aaron Sorkin Talks Steve Jobs Biopic: "This Entire Movie Is Going to Be Three Scenes"
Apple Is the World: Ashton Kutcher as Steve Jobs, the Founder's Drug History & More

Megan Fox's 12 Hottest Moments (Moviefone)