Audiences of a feather flock to 'Rio' this weekend!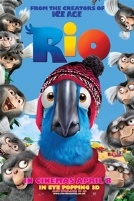 Having already topped the international box office charts, Fox's Rio migrates to North America with a solid and better-than-expected debut of $40 million.  With $50.8 million in 35 overseas markets the film is now conquering America with a G-rated comedic adventure that tells the tale of a domesticated macaw who sets off on an adventure to Rio de Janeiro.  Rio had a lot going for it this weekend beyond its obvious appeal to families and kids since the film has also garnered solid reviews and a strong following internationally that propelled its gross to even higher than expected levels.
Horror films typically have a built in fan base and Weinstein Co.'s successful Scream franchise has had a following of devotees ever since the groundbreaking first film hit theaters in December of 1996.  Combining horror thrills with irreverent humor and an attractive teen cast, that film became a phenomenon opening with just $6.3 million and going on to become the thirteenth highest grossing film released that year with $103 million.  The 2nd and 3rd installments released in 1997 and 2000 respectively both opened in the low $30 million range and Scream 4 coming over a decade after the last installment scared up a gross of $19.3.
Check out our exclusive Scream 4-themed comic strip from Francesco Marciuliano.  Francesco writes the internationally-syndicated comic strip "Sally Forth" and the webcomic "Medium Large." He was the head writer for the PBS series "SeeMore's Playhouse," for which one of his episodes won two 2007 Daytime Emmys. He currently writes for the Onion News Network.

Universal's Hop was the first film released in 2011 to top the chart for two consecutive weekends and has truly benefitted from its Easter theme which has endeared it to kids and families to the tune of $82.6 million thus far.  With increased family-film competition in the marketplace this weekend the film took third place with $11.2 million, but can expect a nice boost next weekend when Easter Sunday will give Russell Brand as the son of the Easter Bunny irresistible appeal.
Sony's inspirational true story Soul Surfer held extraordinarily well with a second weekend drop of just 30% and a gross of $7.4 million.  The surfing drama has earned nearly $20 million in 10 days of release.
Hanna from Focus Features had a solid opening weekend last week which saw the film jump from third place to second place when the final numbers were tallied on Monday.  Holding extremely well while generating solid word-of-mouth, the intense action film features a terrific cast including Cate Blanchett, Eric Bana and Saoirse Ronan in the title role.  Hanna took fifth place this weekend with a gross of $7.3 million and a domestic total to date of $23.3 million.
The downtrend at the box office which has plagued the industry since early November has finally been broken with a strong lineup of newcomers and holdovers giving us enough overall strength to beat last year's comparable weekend when Kick Ass debuted with $19.8 million and How to Train Your Dragon in its 4th weekend took 2nd place with $19.6 million.  
Weekend Box-Office Estimates
Top Movies – For Weekend of April 15, 2011
    Movie     Weekend Gross     Total to Date
1     Rio (G)     $40.0M     $40.0M
2     Scream 4 (R)     $19.3M     $19.3M
3     Hop (PG)     $11.2M     $82.6M
4     Soul Surfer (PG)     $7.4M     $20.0M
5     Hanna (PG-13)     $7.3M     $23.3M
6     Arthur (PG-13)     $6.9M     $22.3M
7     Insidious (PG-13)     $6.85M     $36.0M
8     Source Code (PG-13)     $6.3M     $37.0M
9     The Conspirator (PG-13)     $3.92M     $3.9M
10     Your Highness (R)     $3.9M     $15.9M